Being able to provide fast and dedicated customer service is what can give you a competitive advantage in today's e-commerce environment. However, keeping up with dozens or even hundreds of inquiries every day is a challenge many customer support teams still face.
To ease this up on our users, we have officially launched a new HelpCenter mobile app for Android that should help you meet the ever-growing customer expectations even without the access to your computer. From now on, you will be able to quickly notice, access, manage, and deal with all the incoming requests right from your smartphone.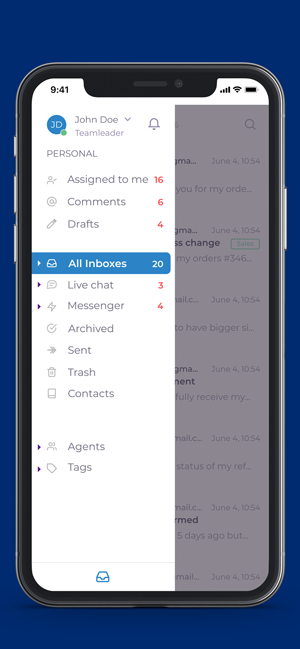 Why use the new HelpCenter mobile app?
HelpCenter customer service mobile app is created for e-commerce merchants who use the HelpCenter app for Shopify and have help desk ticketing service set up for their stores.  
It features all the essential help desk functions and focuses on improving the performance of support agents by noticing them about new tickets on their phones, thus enabling prompt resolutions.
More freedom
You will no longer have to be tied up to your computer, worrying about missing a ticket and disappointing your customers. Once the new ticket reaches your help desk – regardless of the channel – you'll receive a notification on your phone, allowing you to react quickly to customer inquiries wherever you are.
Simplicity and ease of use
The aim of the HelpCenter customer service mobile app is to quickly inform agents about new inquiries, provide them with the necessary tools for dedicated support, and improve customer experience as a result. Since the app features only the key functionalities of help desk ticketing, our users will find it easy to navigate and perform all the essential tasks hassle-free.
Improved agent performance and teamwork
With the HelpCenter mobile app, you will have access to the full ticket list and be able to quickly read, reply, and assign tickets to other agents. This will improve your workflow, save time, and improve work efficiency, leaving a positive impact on your customers.
How can you get it?
HelpCenter mobile app for customer support is already available for everyone on Google Play store.
Simply download the app to your smartphone, log in, and enjoy!
---
---