With eCommerce being a trillion-dollar business increasing at double-digit rates year after year, you'll have plenty of opportunities to profit as a dropshipping business.
Dropshipping allows you to be more flexible because you won't have to store inventory. However, did you realize that while there are 12-24 million online stores worldwide, only 460,000 produce over $1,000 in annual sales?
That's a fiercely competitive market!
So, how do you assure that your dropshipping business will be successful in a competitive eCommerce industry, despite the ever-demanding online shopper?
This article will help you with best-in-class marketing tips supported by every phase of a customers' journey, allowing you to get ahead of the competition.
Skyrocket your sales and sustain your dropshipping business, whether you need to drive new customers to your store, push existing visitors to conversion, or keep former buyers' loyalty.
Let's get started.
1. Add customer reviews and video testimonials to increase credibility
When you run a dropshipping store, customers are likely to be cautious at first about the quality of the things you're offering. This is why including customer reviews, ratings, and video testimonials on your website is an excellent method to earn the trust of your visitors.
New visitors will see what past buyers had to say about a product, thanks to product reviews. It can motivate a potential buyer to finish a purchase by doing so.
Dropshipping store owners on AliExpress, for example, typically capture a screenshot of a customer's feedback from their supplier's store and upload it on their website. However, as your online store grows, you'll need to expand your product reviews, ratings, and testimonials.
---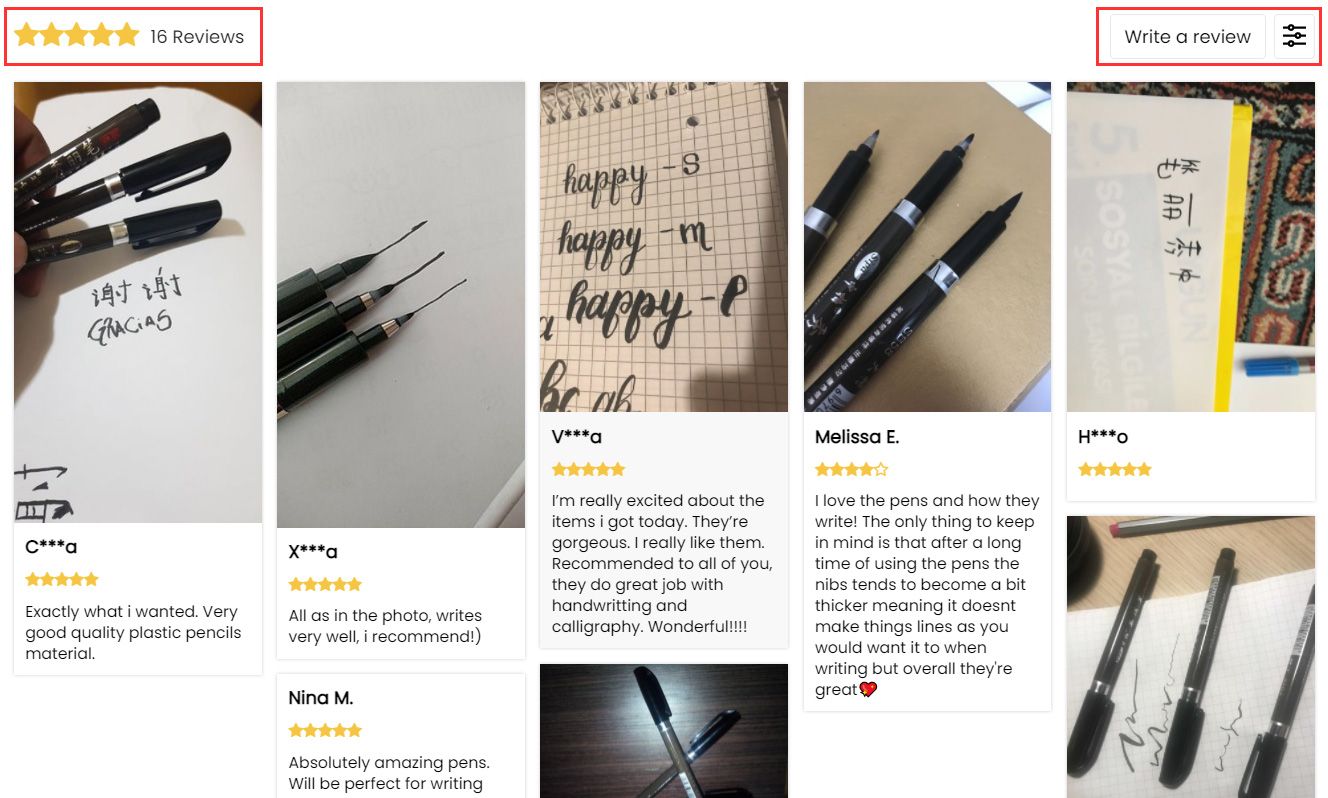 ---
You can have a section on the product's page called "Write a review" that encourages customers to post a review. You may increase your conversion rate by 14-76% by using this simple marketing strategy.

2. Use Facebook/TikTok ads to attract new customers
Facebook Ads
There are about 2.89 billion monthly active Facebook users globally as of August 2021. But, beyond the sheer quantity of individuals who use Facebook, many dropshipping entrepreneurs appreciate the amount and variety of data it collects.
This means you can target the proper demographic for your ads with as much precision as possible. Depending on your target audience and budget, Facebook Ads can be highly customized.
You may customize your advertising format and where they appear, including Instagram, Audience Network, Messenger, and the newest platform, Marketplace. It also allows you to manage your ads and track their effectiveness all in one place.
Good hYOUman, an online apparel manufacturer, used Facebook advertising to promote photographs of individuals wearing its feel-good clothing. The campaign yielded a return on ad spend of 20.5X.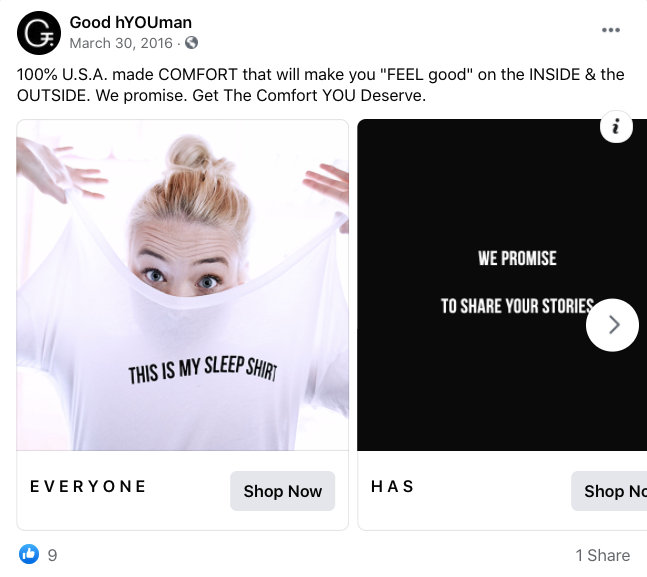 Pro tip: Ensure that you have installed the Facebook Pixel if you haven't already. The Pixel is Facebook's way to track and learn from performance data to enhance targeting.
TikTok Ads

Today's dropshipping vendors have another choice for promoting their items, in addition to Facebook marketing: TikTok ads. TikTok is emerging as the next hot social media platform for advertisers to put in some real effort, with more than 1.1 billion active users worldwide.
Gushers, a candy company, does a terrific job with TikTok commercials that are inventive and amusing. Their TikTok videos frequently receive millions of views and a lot of interaction. To take things into perspective, Gusher's first TikTok ad had 5 million views.
---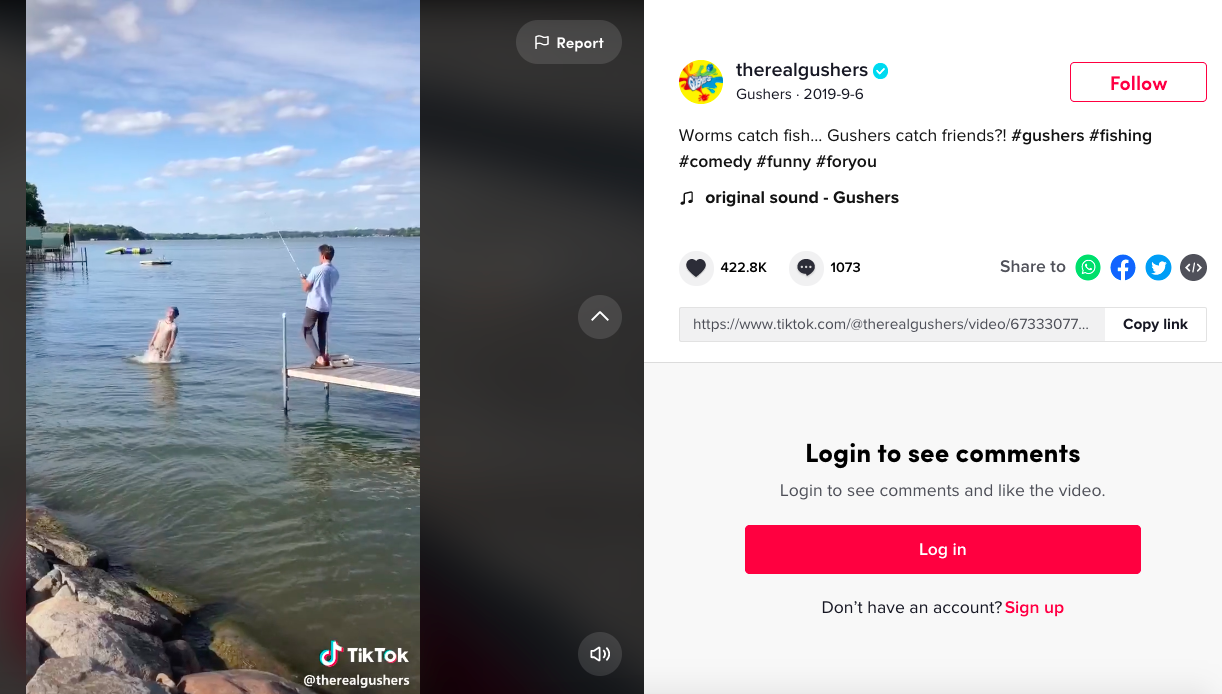 ---
Focus on establishing a successful campaign regardless of which platform you use to run advertising and market your products. How?
Here are 3 helpful tips for running a good campaign:
For better targeting, invest in video content that is incredibly visual and auditory, making it easier for potential customers to remember than text-based content.

Customers will find your brand if they remember your content, which will result in more e-commerce sales and leads for your online business.

Target people from your contact list. Brands invest a lot of money to get more email subscribers because email lists are great resources for potential new customers.

It's easier to sell to existing customers/subscribers than it is to find new ones. You can quickly upload your email list and run ads for these specific audiences using Facebook Custom Audiences.
Patience is required. When it comes to paid advertising, if you don't get results immediately, it can feel like you're wasting money. But, especially in the beginning, acquiring data and understanding your target clients is critical.

Wait until you've reached 3,000 people before pausing or tweaking your ads. Even if your advertising doesn't generate any purchases, you'll have enough data at that time to learn something from their performance.
3. Turn visitors into subscribers with pop-ups forms
55% of internet visitors abandon a website within the first 15 seconds of their visit. This is why collecting your visitors' email information is a crucial stage in the lead conversion process.
To effectively convert visitors into subscribers, you must use a marketing approach that encourages them to do so. Why not use a pop-up form to entice people more successfully to join your email list?
You may nurture those leads with a succession of email marketing materials to engage them with your dropshipping business and, finally, drive them to purchase after you have their email addresses.
There are many online form builders which can make your life easier by automating this challenging process.
Customers can become bored with pop-ups. It's pretty irritating to see those lead generation capture forms regularly. As a result, less is more. You should take care to position your pop-ups so that they do not obstruct visitors' shopping flows. Use both pop-ups and tailored header bars, such as Moosend's hello bar.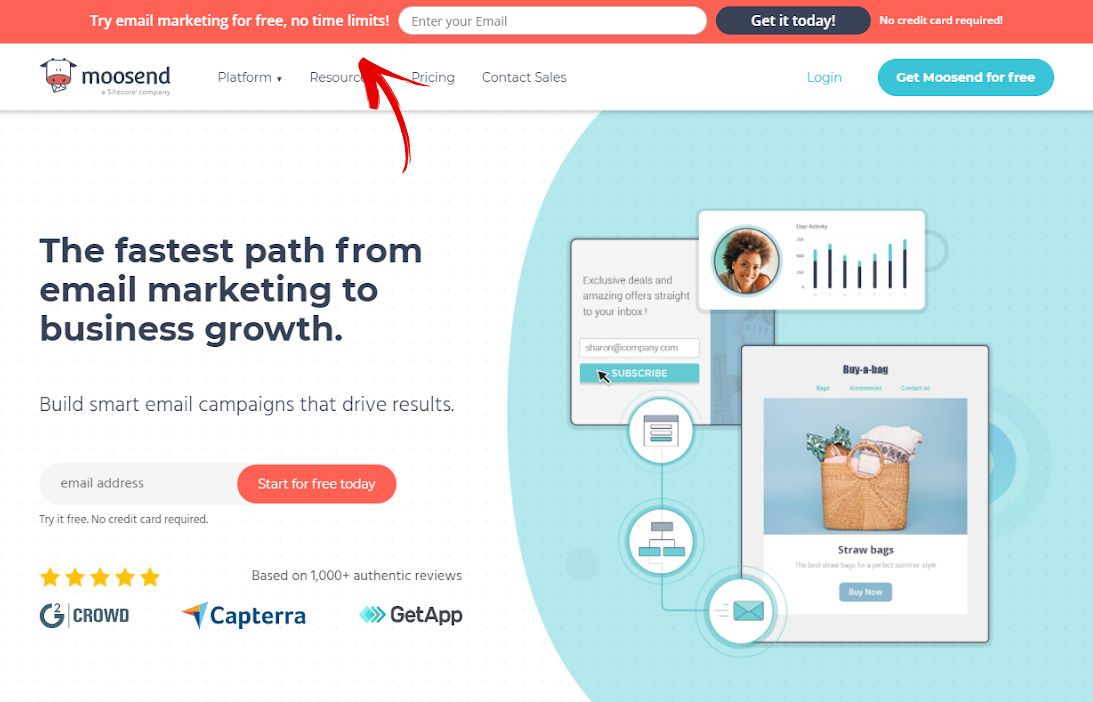 This bar is prominently displayed so that visitors can easily become subscribers or consumers. The exit-intent tool is also available to assist you in regaining lost consumers.
The best part is that, unlike traditional pop-ups, it won't divert your customers' attention away from your site's content.
4. Increase traffic and engagement through sharing social videos
Online videos are expected to account for more than 81% of all consumer web traffic by 2021, making social videos one of the most popular marketing mediums today.
This is an opportunity for dropshipping businesses to refocus their marketing efforts on leveraging video content to advertise their store or market their products to increase brand knowledge and recall.
---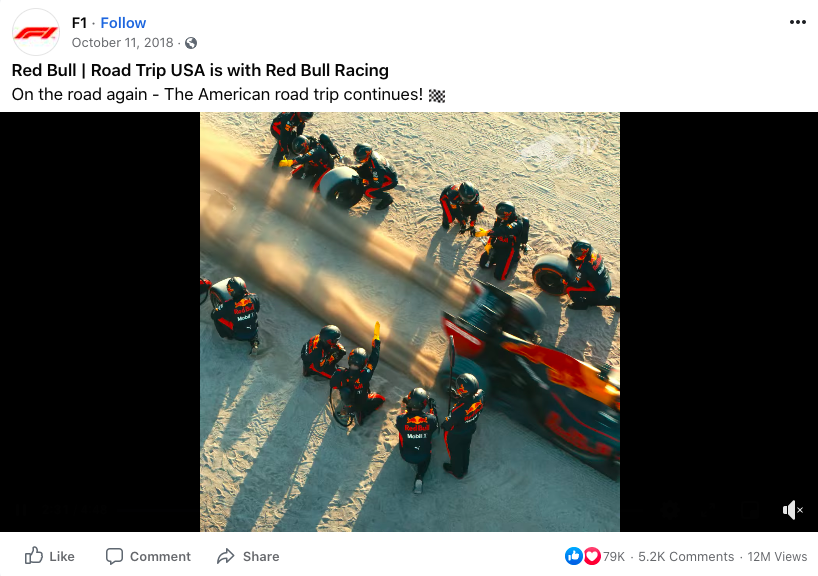 ---
Red Bull is the perfect example of a brand that can gracefully dabble in various content types, even if they have little to do with the product it sells. This is crucial for effective marketing.
Customers are more inclined to gravitate towards your product if you are associated with any of their passions. This film demonstrates Red Bull's ability to do so. They tap into a large market of enthusiastic fans to create something that positions their brand as an authority on Formula One racing.
Although the tedious thought process and creativity involved in generating social videos for a small-scale dropshipping business might be challenging, look for already viral videos on popular sites like BuzzFeed and distribute them on your social media site as an alternative.
To drive traffic to your dropshipping site, remember to share your post with an attention-grabbing call-to-action.
5. Use retargeting techniques to re-engage potential customers
On their first visit, many visitors will not buy anything from your website. Dropshipping merchants face a hurdle because traffic is difficult to come by. Retargeting might help you reclaim a seemingly lost opportunity in this case.
Retargeting is a marketing approach that targets users who have visited your eCommerce site but have not taken any action. You can use retargeting to show relevant advertising to users who have already left your site.
These potential customers are more likely to convert to your site after being retargeted with display ads.
The picture below explains how retargeting works.
---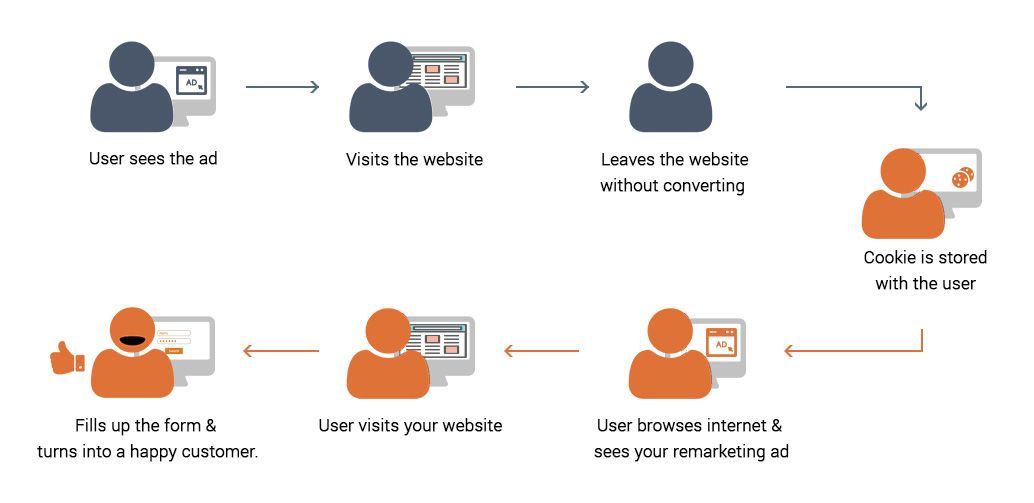 ---
In the Facebook retargeting ad below, HubSpot executed this strategy flawlessly. They used the artwork and language to address a pain point rather than stamp the image with their large, orange logo that I've seen a million times.
They understand that one of the primary reasons time-crunched SMB advertisers are hesitant to purchase a CRM product is the fear of it taking forever to set up.
Their ad text allays the advertiser's fears by directly addressing them and telling them that not only does it take only 25 seconds to set up, but it will also save them time in the long term. The image of the timer serves as a visual reminder of the message.
---
---
Are you unsure which objections you should address? That's the simple part. Begin by contacting your sales team or customer support. Because they're "on the front lines," they should be aware of the most typical initial concerns that prospects have.
You can also try surveying your non-converters to understand better their reasons for canceling if your sales are solely electronic. Digging through your web reviews for helpful insights is also a good idea.
6. Leverage upselling and cross-selling
As a dropshipping company, you want to get the most out of every transaction. This is why you should use product upselling and cross-selling tactics to increase your transactional value.
Because there is a slight distinction between the two, they are always blended as part of a single marketing strategy. Both can help you increase the overall cart value and your store's revenue by up to 70%.
---
---
With its "Frequently Bought Together" campaign, Amazon is well-known for using upselling and cross-selling strategies.
7. Start a blog to increase organic traffic
Behind news sites, Facebook, shopping sites, and YouTube, blogs are the fifth most trusted source of information on the Internet. Blog marketing is a low-cost technique for reaching out to your target demographic through the medium of a blog.
The main advantage is that it allows you to grow your audience and increase traffic and sales for your dropshipping business. You can also create content to persuade past visitors to come back. But, more crucially, one of the most critical functions of a blog is to improve your SEO rankings.
The better your blog posts are optimized for SEO, the higher your website will rank in search engine results pages. The higher your position, the more likely others will find and learn about your dropshipping business.
Don't worry if you're not a natural writer. Because you don't have to produce an article with a word count of 2000 words or more; instead, make it brief and sweet. Consider blogging to be an extension of a Facebook status update or a product description.
You do it every day; why can't you do it with blogs as well?
8. Join online groups and communities
A community is a group of people who share a particular interest. Almost every dropshipping company has a specialization. Use this to your advantage by locating places where people in your niche congregate, such as Facebook groups or blog communities.
Join these groups once you've found them to discover what your target customers are talking about.
You can serve as an ambassador to advertise your dropshipping business or to introduce your products in a subtle manner. You can more effectively position yourself as an expert in that niche by acting like a real user.
You can also promote your store on the group's social media page. Send fashion inspiration lookbooks if you're a dropshipping shoe company, for example. Request that the group posts them on its page with a link back to your store.
The Takeaway

Marketing is required for every business to prosper, whether it is dropshipping or not. With that in mind, the recent expansion of numerous marketing channels and strategies has made it difficult for a dropshipping business to stay up and ultimately flourish.
The strategies above will ensure that you are prepared at every stage of the shopper's purchasing process. This marketing advice will be helpful whether customers are browsing, completing a transaction, or have already made a purchase.
Until the next one, keep optimizing your dropshipping business.
---
---
This is a guest post by Alex Souchoroukof.

About author:
Alex is a content writer at Moosend. He leaped faith in the digital marketing world from an architecture background and has never looked back. You will find him traveling in places around the world in his free time.