Nowadays, offering exceptional customer support is not an exclusive option, but a requirement. And in such a competitive world, customers are more demanding than ever, especially when it comes to the speed and quality of support companies provide.
And customers can afford such behavior, since, according to Statista, only in the US, about 40% of customers regret doing business with the company which provides poor customer service.  Just imagine the number of customers around the world who feel the same way.
Using the help center Shopify apps can significantly improve your customers' experience as well as increase your sales.
Let's dive in and take a look at the best instant FAQ and Live Chat help center app .
What is Help Center?

The help center Shopify app allows the customer service team to track requests as they progress through the problem resolution process, usually through the "ticket" method. Tickets (or customers' help requests) are assigned to specific agents and stored in a central location.
Modern apps also offer live chat services, the ability to involve a chatbot (relevant for teams that do not provide 24/7 support), and the ability to create FAQ pages.
Why Do You Need Help Center Shopify App?

It's hard to imagine companies today that don't have help desk software. However, the absence of this increases the number of angry and dissatisfied customers. The number one reason customers leave or switch to a new brand is because they feel unappreciated and unheard.
It is a well-known fact that in business there is nothing more important than the client. Marketing strategies are designed with the sole purpose of making customers feel valued and important.
Unfortunately, no matter how many personalized emails you send, or even how attractive the newsletter you create, if you don't have a system in place to quickly resolve their issues, they will leave you. They will never deal with a company that doesn't understand their problem and keeps them waiting. That's why you need to choose the best eCommerce help desk software for your Shopify store.
Let's see what other benefits of help desk Shopify apps we've found.
Manage customers' concerns effectively.
Undoubtedly, one of the biggest benefits of help desk software is the perfect management of customer requests. With a properly designed ticket system and your support team to deal with customer issues in a timely manner, you can process and resolve requests and complaints in much less time than with a typical manual helpdesk.
As we already know, these days no customer has the patience to wait a few days to get their problem solved. The sooner the company solves the problem, the greater the chance that the customer will stay with you.
2. No more lost or repeated customer requests.

Large organizations that generate numerous support requests daily are forced to lose tickets from time to time without a complete solution.
Often this happens when agents are turning their attention to higher priority issues. With help desk software, your team will be able to prioritize tickets and resolve them accordingly. Less important tickets can be delayed, but they won't get lost in the flow of requests.
The help desk software also ensures that individual assistance requests are not assigned or requested by multiple agents. Duplicate requests take everyone's time and can lead to confusion on both sides.
3. Multi-Channel Integration.
In this digital age, it is essential to make customer support available across all digital channels so that customers can contact you through any channel that is convenient for them. And some even prefer to solve their problems without contacting the support service, using the FAQ pages. This makes your company easily accessible to customers and thereby increases their trust and loyalty, in addition to providing an amazing experience.
Provide your customers with the ability to contact you via live-chat, or implement a chatbot to provide 24/7 support and your customer experience will be improved.
4. Reporting.

Another benefit of help desk software is the ability to store ticket and agent performance information. This information can then be used to evaluate the performance of the team. Reporting allows organizations to study common customer issues and integrate product and service changes to address them.
Reporting also gives management insight into the workflow model which can inform how to schedule agents and assign roles. So reporting can help transform the workflow of customer service.
5. Pre-Set Macros.
Helpdesk software usually comes with ready-made or pre-configured macros (responses) to generate automated messages for common customer requests. This includes confirmation messages, general instructions for customers, etc.
These carefully crafted responses can enable you to quickly respond to customer complaints and speed up the process of resolving those issues. This saves the support staff from having to copy and paste the same message to send to every customer. I think this is one of the most convenient benefits of help desk software.
Since we've already discussed the benefits of help desk software, I believe it's time to choose the best eCommerce software for your Shopify store. Keep reading to find the list of the best free software.
Best Free Help Desk App for Shopify Store
HelpCenter
The HelpCenter app is one of the best customer service apps for your Shopify store that can help you improve customer experience, boost your sales, and increase customer satisfaction with your brand.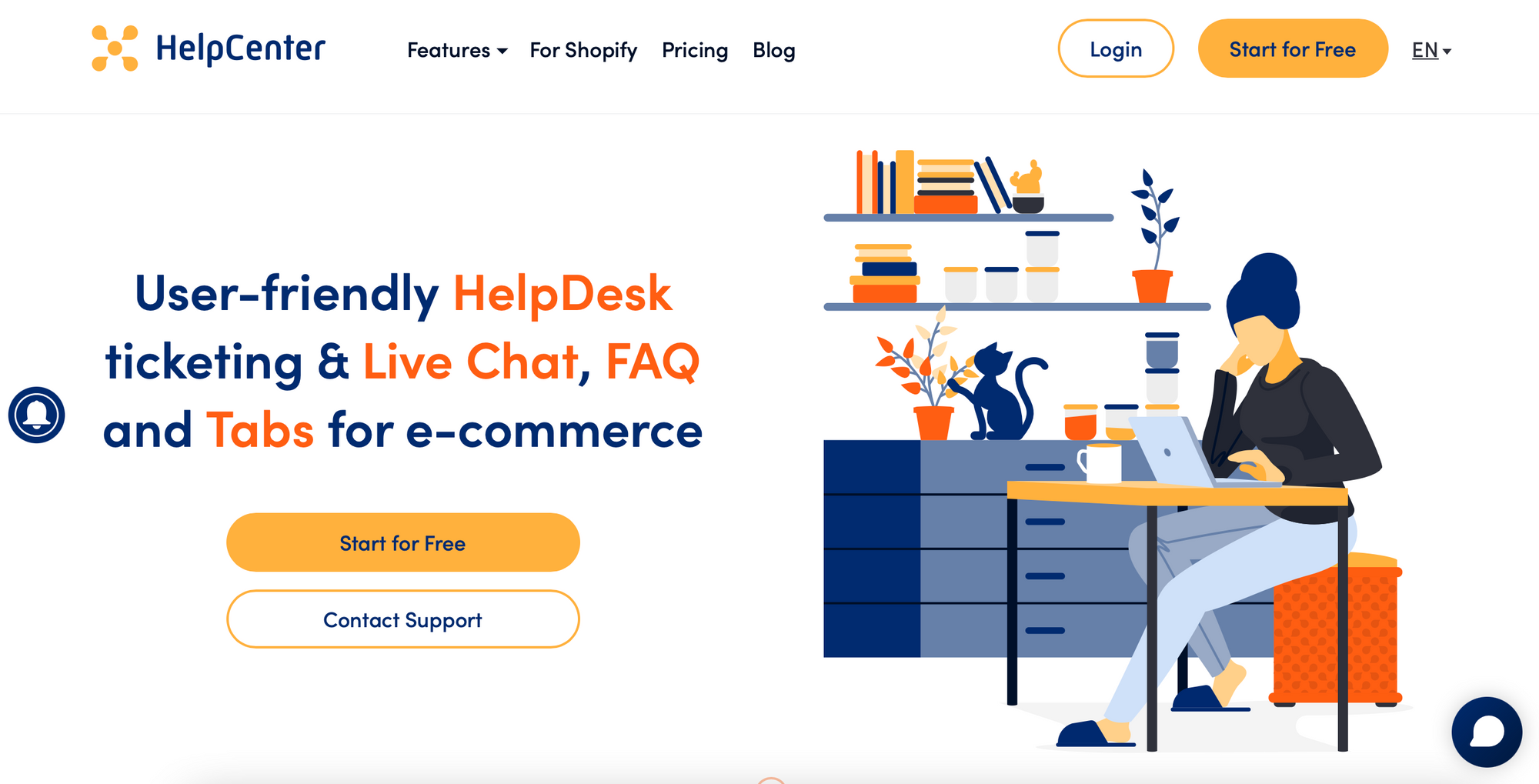 HelpCenter offers all the necessary features you need to provide excellent customer service. Help desk ticket system centralizes all the income requests (emails, live-chat, etc.) in one place for your convenience.
In addition, HelpCenter provides such great features as simple FAQ page builder, live chat, and product description tabs that can greatly improve your support team workflow as well as your customer experience.
HelpCenter is focused on improving the efficiency of interaction with customers - and not only when they contact you directly, but even before they decide to contact you.

Rating: 4.8/5

2. AVADA FAQs, Helpdesk, Chat
AVADA FAQs is a great Shopify app designed to solve common and urgent customer issues in a timely manner. Pop-up windows and FAQ pages help customers easily ask any questions and find answers instantly anywhere in your store.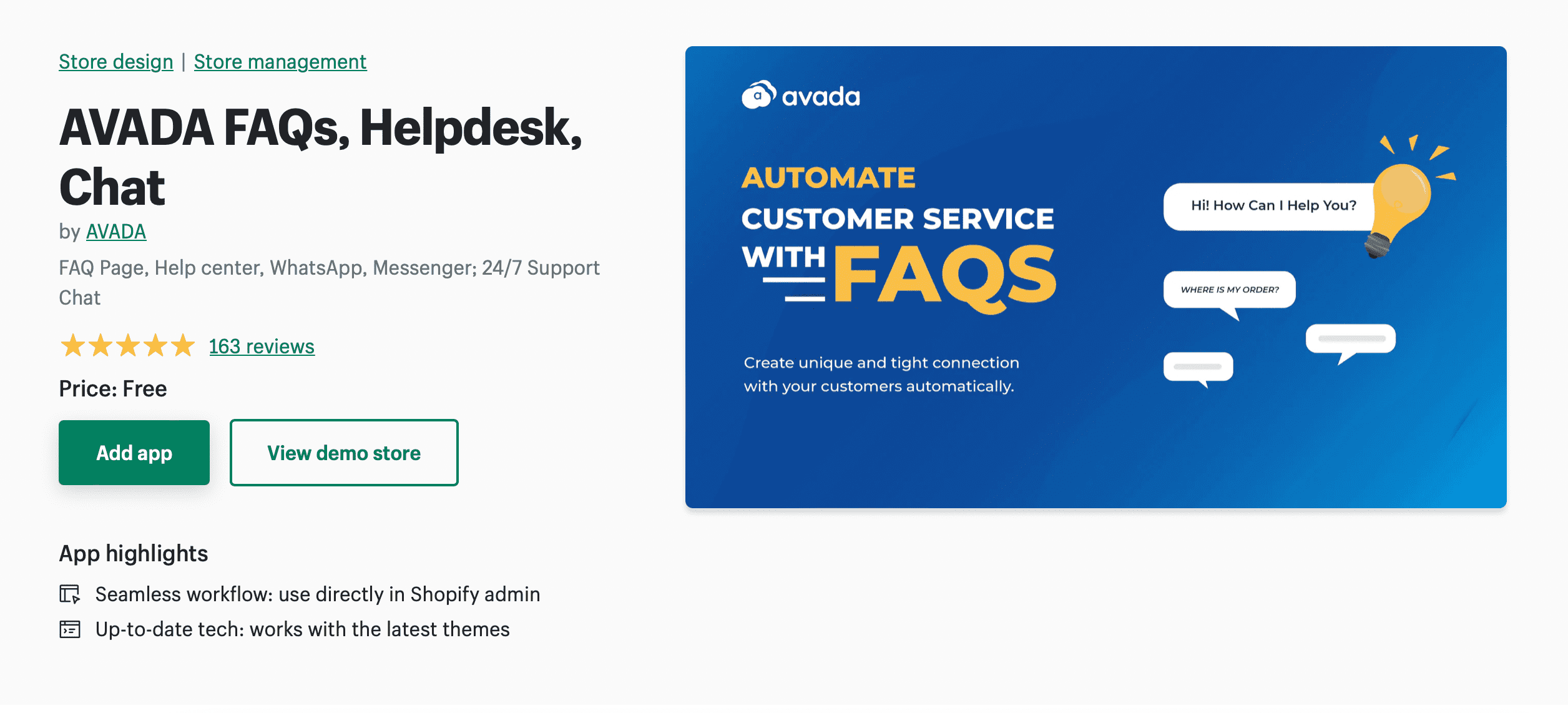 It helps eCommerce businesses reduce support time and additional costs by providing popular information with an attractive FAQ interface. It also improves the customer experience and motivates them to fulfill their orders without hesitation. Hence, Shopify sellers can improve their conversion rate and smoothly achieve sales growth.
Rating: 5/5
3. Richpanel
Richpanel is a customer support solution created specifically for eCommerce brands. It is designed to help you increase conversions and increase the lifetime value of your customers.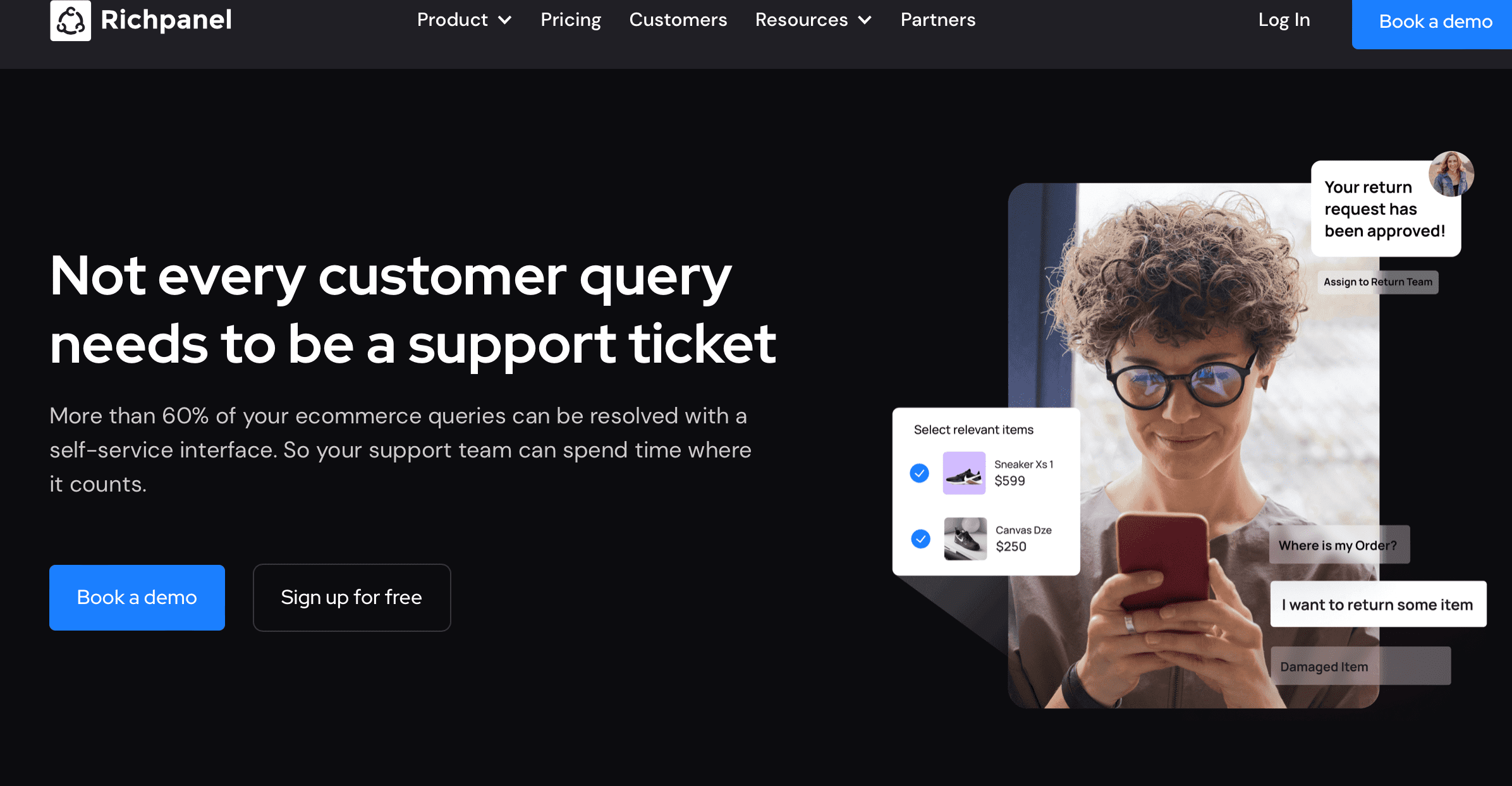 With Richpanel, you can easily track, manage and resolve queries in a short time. You can manage all your support channels: live chat, email, Whatsapp, Facebook and Instagram. This saves a lot of time and helps support reps be more productive.
In addition, Richpanel comes with a range of management features and allows you to view agent performance to help you identify issues and make improvements accordingly.
Rating: 5/5
4. Tidio
Tidio is a great customer service software. This allows you to deal with all your customer requests efficiently and in a timely manner.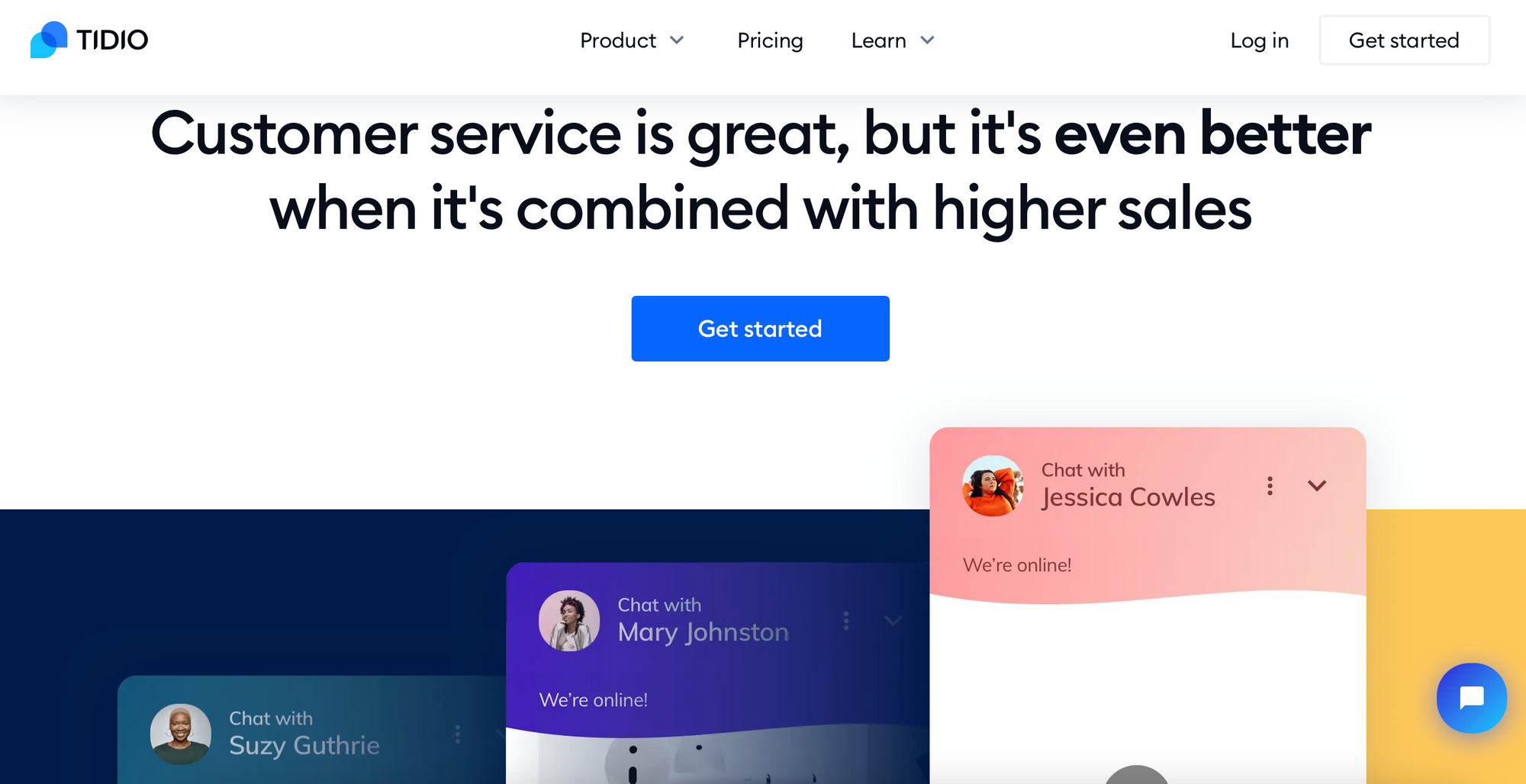 Through the live chat widget, your Shopify eCommerce store will be available to your customers 24/7. Also, since it is supported by artificial intelligence, you can communicate with your customers in real time.
It features compatible monitoring, email management, third-party integrations, live chat, geo-targeting, routing, website visitor tracking and CRM.
Rating: 4.8/5

5. HubSpot
HubSpot offers a great feature set and ticket management system, however it may not be the right choice for those who are already using CRM.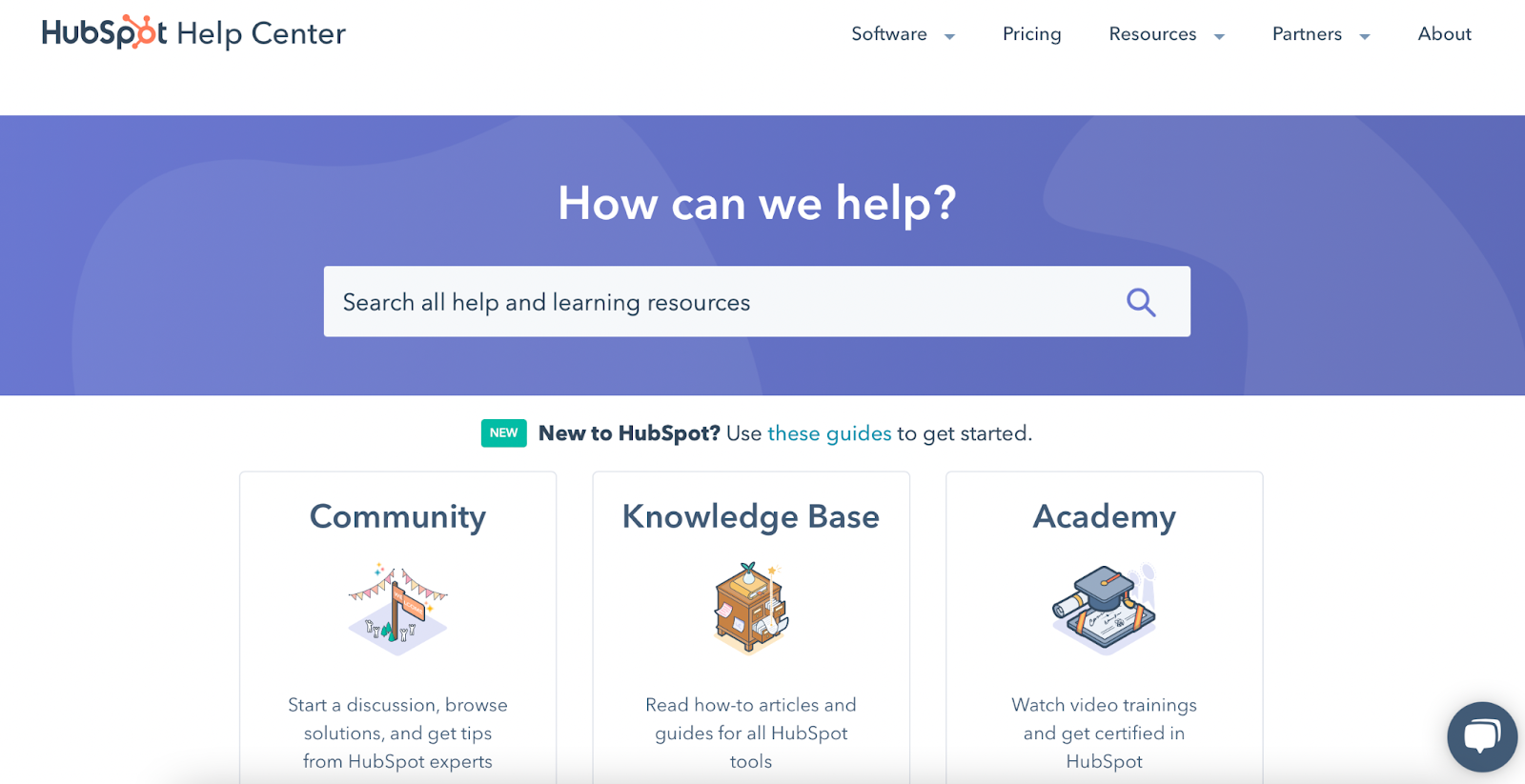 It offers an extensive ticket management system for your team. One of the best aspects is that its free plan offers quite a few features.
However, if you are currently using its free plan, you will notice that it prevents you from contacting HubSpot customer support.
Features: Live chat, conversational inbox, conversational bots, meeting scheduling, and more.
Rating: 3.5/5
6. Gorgias
Gorgias is a customer support service designed for Shopify eCommerce store users. It offers a variety of tools and features such as customer history tracking (including email, calls, back orders and tracking numbers), ticket creation and management, autoresponders, email integration, internal notes, mentions, custom views and request assignment.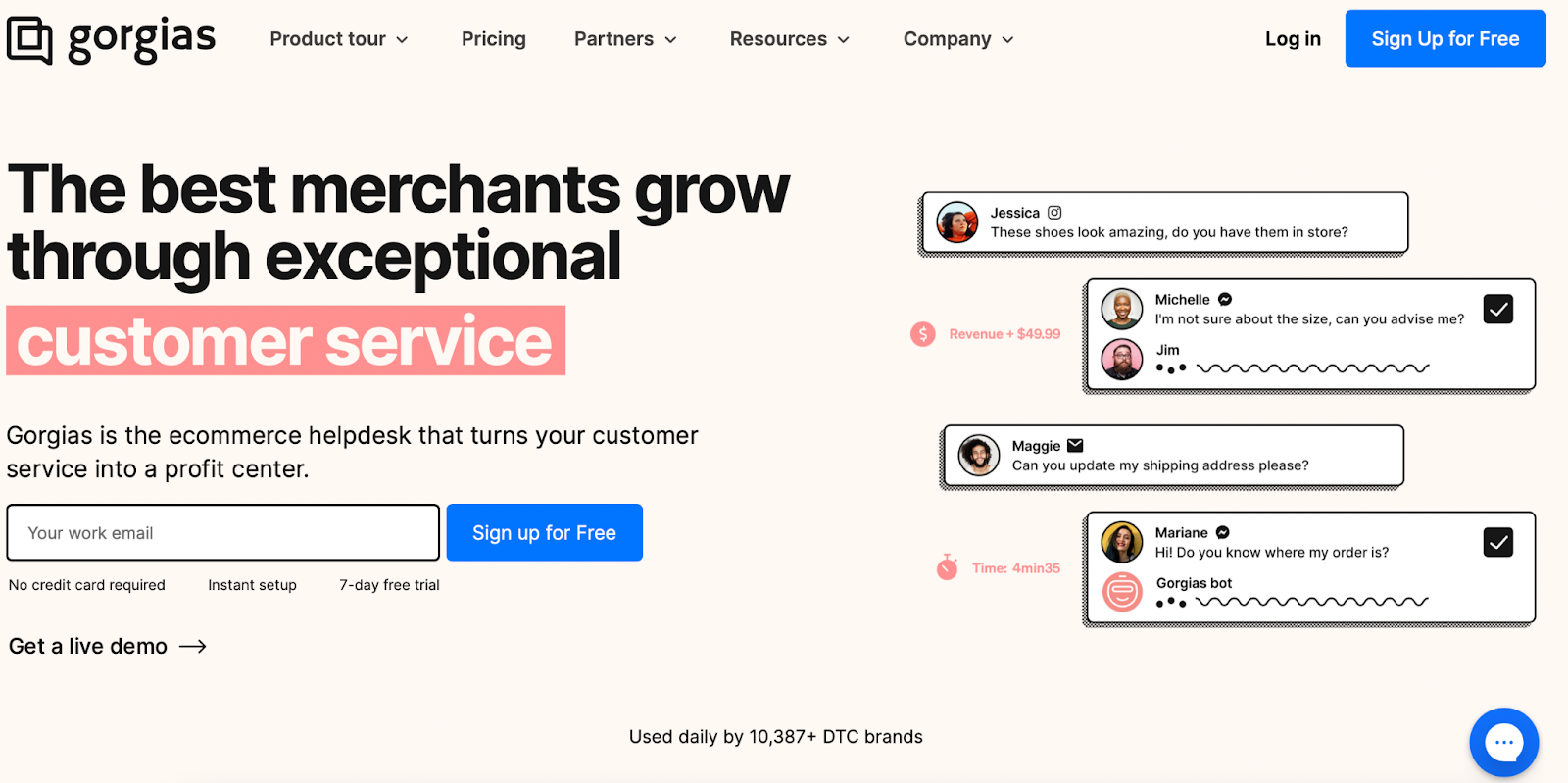 Gorgias helps you in supporting your customer service team by helping them pull out data on payments, refunds, and various order details in no time.
It will also allow you to integrate and connect with customers on various social media platforms such as Facebook, Outlook, and Twitter.
Rating: 4.4/5
Conclusion

Of course, components such as product quality, packaging design, delivery times and website design are important, as is customer service. However, customer service is an often overlooked component that plays an active role in the success of your eCommerce website.
When choosing the right solution, keep in mind that your Shopify help desk software is not just a way to respond to customer queries and resolve tickets. This is a great way to connect with your customers and provide customer support before and after a purchase. The best eCommerce software will help you scale your business and increase your profits.