People who win in business aren't people who have the best ideas — it's the ones who've done everything to get every single edge on their competition.
That's why in this article we'll present you 5 evergreen e-commerce strategies along with 12 practical use cases and case studies.
And the best part?
These strategies work for e-commerce stores in every industry.
Lets' go.
1. Optimize your e-commerce store for search engines
SEO works like a mining machine for your e-commerce store. After all, it brings hungry traffic that gives an unbelievable cost-to-benefit ratio.
But remember, the world of SEO may mislead you because many gurus teach outdated techniques. So to avoid reinventing the wheel, read this Google's SEO Starter Guide.
Now SEO can get complex real quick. But honestly, you're 80% there if you just stick to the following process:
1. Make a list of products you're selling (for example, sunglasses chains).
2. Type each one into Google and see what Google autocomplete suggests after you place a space either before or after your product name. These are queries that people typically search for.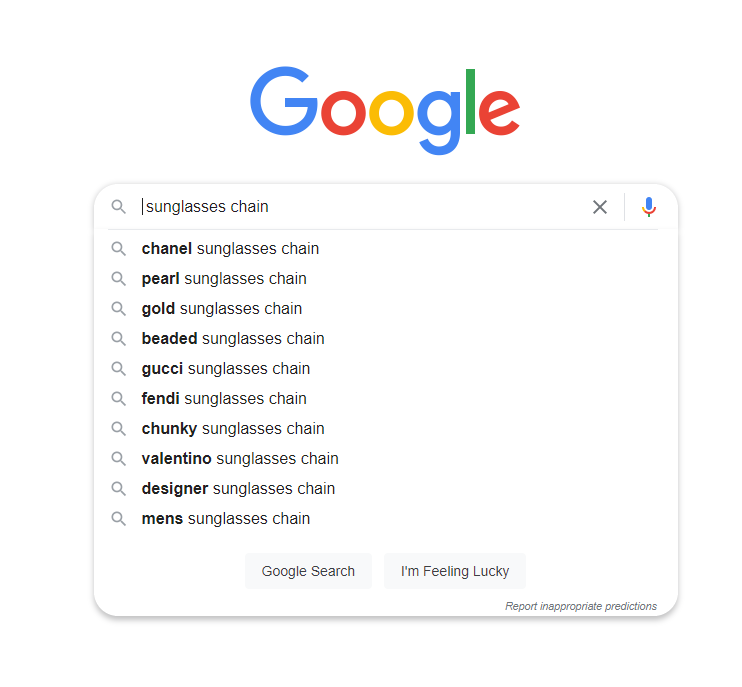 Let's focus on the gold sunglasses chain.
3. Now add 100-150 words of useful content to the top or bottom of your collection page that includes a handful of mentions of your target keyword and its variations (just make sure you create one page for every keyword you want to target).
Here's how Sunny Cords have done it: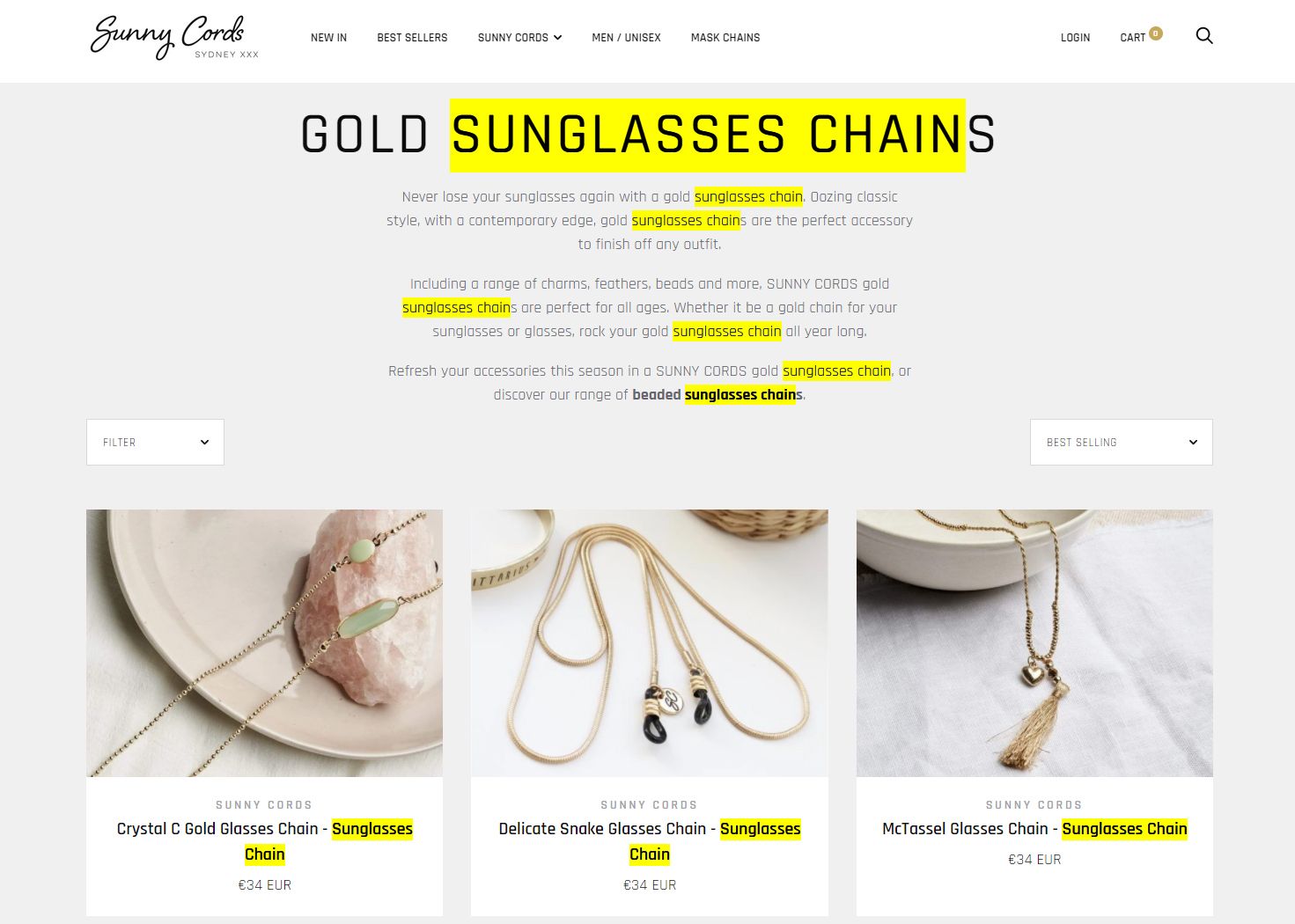 With this simple site, they're ranking right below Amazon and Etsy, getting roughly 150 visitors per month.
And if you want to rank even higher, consider building some backlinks to your collection page.
How SEO helped Primary Arms increase their organic revenue by 47%
Primary Arms is a USA-based firearms seller. They leveraged SEO to boost revenue by 47% within 12 months.
As per Ahrefs report, the yearly organic traffic of Primary Arms is equal to $264k in ad spend. That's a big save on money!
---

---
Although their SEO strategy was on point, they still missed a ton of organic traffic. That's because the organic CTR for their primary keywords was very low.
To tackle this, they optimized their content pages and titles to attract visitors who ignored them earlier.
Overall, a little change in the SEO practice brought them $425K more.
2. Use FOMO to its best potential
FOMO is a classic psychological marketing strategy... It's the fear of missing out on something. And guess what? It's a feeling that compels customers to take immediate action.
For this method to work, we have to create a sense of scarcity or emergency in one of four ways.
Limited-time deals & offers
A time-sensitive promotion is the most common tactic for FOMO. If the product is only live for a few minutes, customers will have a strong desire to buy it before they lose it forever.
Countdown banners or promotion of limited edition products can make this situation happen. Besides, you can also have discounted prices displayed with a timer that expires soon.
Use CTAs to your advantage
A strong CTA with FOMO technique pushes customers to buy immediately.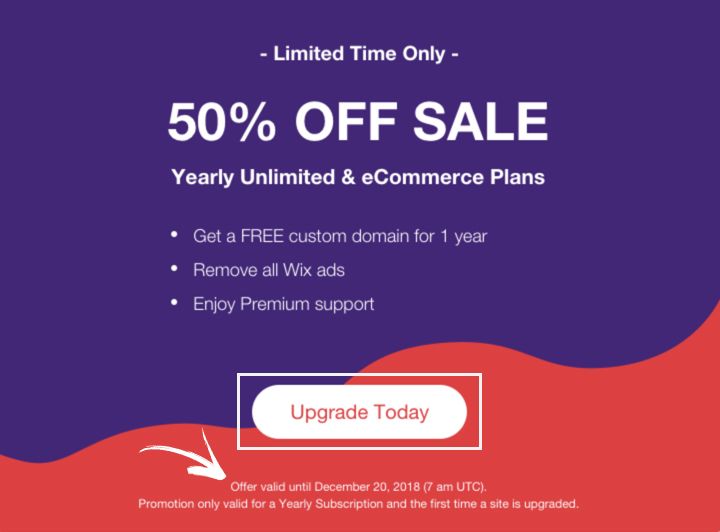 To make a CTA effective, you can leverage power words as they can increase any store's conversion rate by 12.7%.
Let your customers know about the stock
Showing a limited amount of stock triggers urgency. As you can see, this shoe is low in stock. Anyone who likes it will definitely buy it before someone else.

Even though they say low in quantity, a number would've been a better way to tell about the stock.
PRO TIP: A great way to build your email list is by keeping your sold out item listed and asking customers to join a waiting list... If it comes in stock again, notify them, but make sure you test your email list before sending out a blast!
Leverage social proof to win confidence
Social proof lets your customers know that your product is legit. Because others are loving it, they won't hesitate to buy it either.
To give solid social proof, install plugins that can add review sections for your products.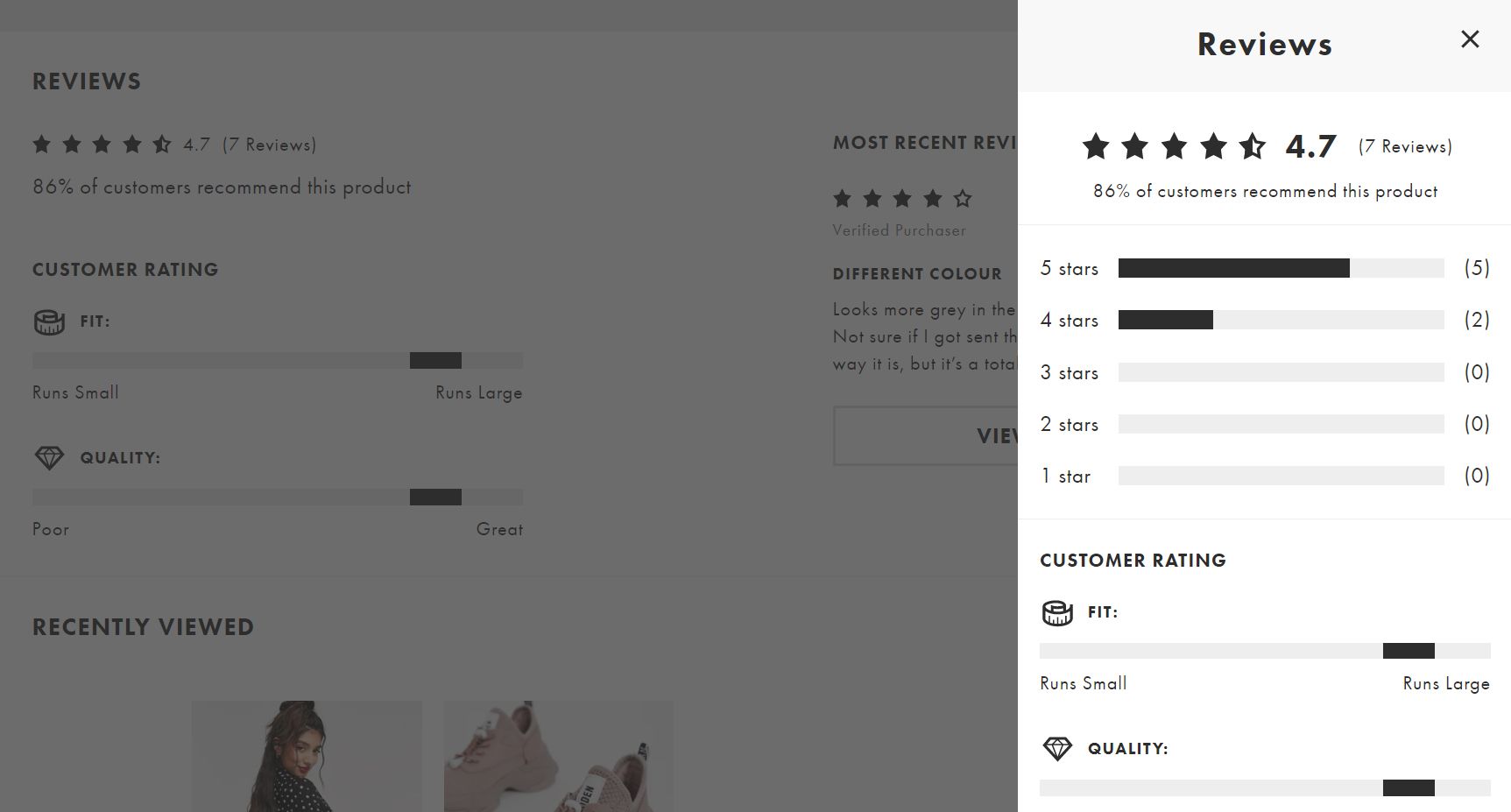 Apart from these tactics, you need to be aware of the downsides as well. If you overuse FOMO, the customers will notice it and lose faith in your store's claims. So, do it wisely and efficiently.
3. Make sure your user experience is better than your competitors
Creating an eCommerce website is the first step in your journey, as an online presence is very important for creating connections that drive business growth and improve user experience.
Hundreds of other businesses want to steal your customers. So neglecting the UX department would make all your visitors pick your competitors.
With that, all your advertising and SEO efforts will be meaningless.
Take a look at the skincare brand Bliss, they've combined several elements like:
Easy navigation
Featured product slides
Easy login button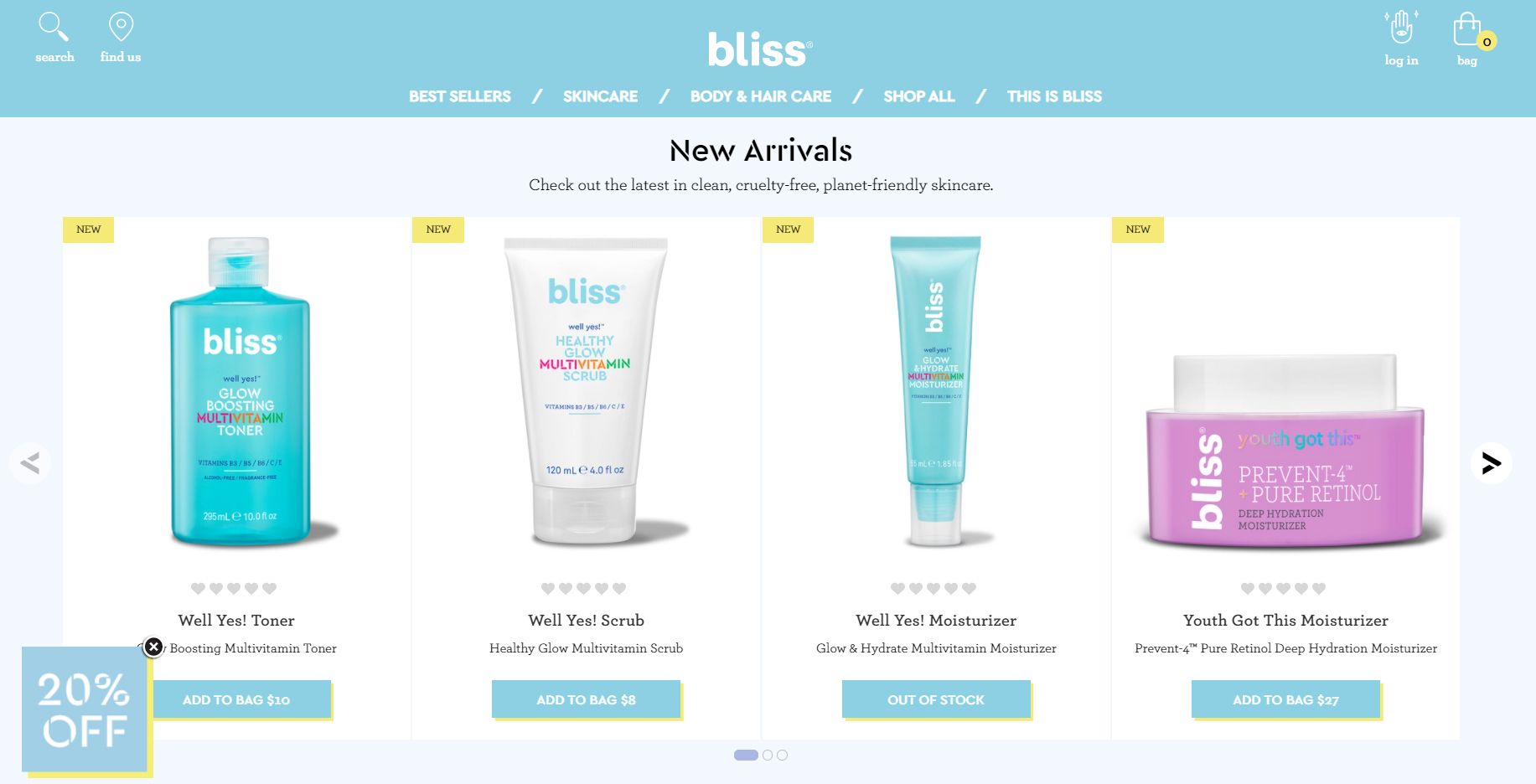 Not just that, everything from loading times to the functionality of the website affects the user experience.
Here are a few things you must take care of to improve the user experience.
Combine aesthetics with functionality
The look of your website isn't the only thing that matters. Your store has to be functional and everything should make the customer's life easy.
A few things to do here are making your website and its section easily navigable.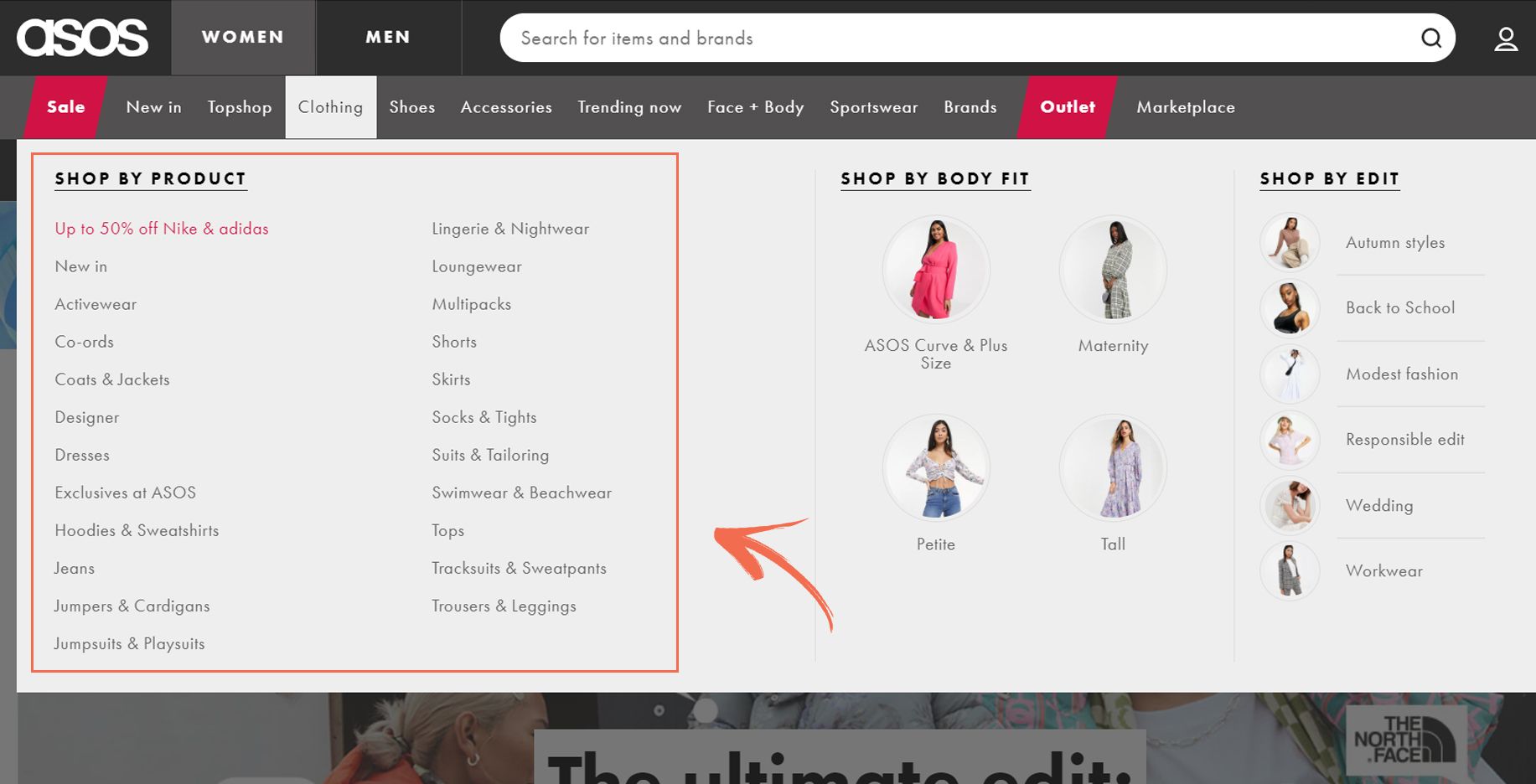 Other than this, image compression can reduce the loading time to a great extent.
Provide a multi-channel experience
Having a multi-channel presence makes your brand noticeable.
Your customers can relate to your brand and can have a certain image in mind. In the long term, the customer will have more confidence in the purchase due to this tactic.

While doing multi-channel branding, keep the vibe same across all platforms.
Personalized product recommendations
Personalized product recommendations heavily increase sales. Whenever a customer buys your product, you can recommend something similar to it.
In fact, you can identify buyers with similar purchases and recommend something relevant.
Along with this, you can show something like "others who bought this also bought."
Take customer feedback
Understanding your customer's wants can improve their experience and make them more loyal. Right after purchase or any other action, you can ask your customer for feedback.
If the feedback is great, you can use that as social proof. Otherwise, you can find out the problems and solve them.
In addition to this, following other tactics like adding reviews, post-purchase engagement, etc. is also a good idea to improve your website's user experience.
4. Hire influencers and increase your sales
Influencer marketing is a technique that we all are familiar with.
Once in a while, you may have come across such influencers who promote a brand on social media. Usually, businesses send products to these influencers or pay them a sum for a paid promotion.
The pay is mostly determined by the influencer's popularity, followers, and niche.
Influencer marketing works because these influencers already have the attention of your customers. They follow their advice or comments without thinking twice.
See, here I've compiled 3 success stories to demonstrate how helpful these influencers are.
Ridge Wallets
Ridge Wallets started in 2014. Since then, they have grown immensely in the US with upwards of $50 million in sales for 2020 alone.
Their secret? Sponsoring videos on YouTube.
In a podcast with Practical Ecommerce, COO of Ridge, Sean Frank, shows great stats behind their influence marketing campaign.
Frank said that Ridge Wallet has sponsored over 750 influencers in 2020 for over 3000 videos. They spent only a little under $4 million on this.
That brings their total profit to about $46 million.
As far as the strategy itself goes, there wasn't any unique aspect to it. Therefore, this shows that any brand that can invest in influencer marketing can reap the profits.
Kalumi Beauty
Kalumi is a unique brand that creates food products for beauty.
Primarily geared towards women, Kalumi had a massive challenge to fight against big and popular brands in their niche. Influencer marketing was an obvious option that stood out for them but there was a catch.
Kalumi Beauty partnered with real product users who could tell authentic stories. Otherwise, mainstream beauty influencers would be out of their budget.
Spending only $6K, they gained a massive trend which delivered around 675K impressions.
Subaru
Subaru is a well-known Japanese automotive company. They're already recognized by the people and have a successful business model.
The only reason Subaru launched Meet an Owner campaign was to improve the public's sentiment.
During this campaign, Subaru partnered with only 20 influencers. This included the famous YouTuber Zach King, whose video reached above 8 million views to date.
After the campaign's success, Subaru customers also had a chance to share their stories on the campaign website.
5. Start retargeting to win back more customers
Retargeting utilizes the cookies on your website which track the on-page activities of your visitor. In layman's terms, you can tell which products your visitors looked at but didn't buy.
Whenever a customer leaves the website after viewing the product, they're either looking for another option or not interested in the product.
In any case, reaching out to them again reminds them of the product and may also change their mind.
Technically, you can use social media ads, email campaigns, or programmatic ads to retarget a customer.
Few pointers to know about retargeting

Personalize your email with names and the products they want to buy
Make sure the email isn't pushy or reminiscent of spam
Put your effort into customer behavior analysis to accurately find out the data for retargeting
Up-sell and cross-sell similar products which the customer might like
Final advice
Each strategy has its own strengths and weaknesses... So what works for one e-commerce store might not work for you.
But instead of trying out everything at once, pick one strategy that makes the most sense to you and stick with it for 3 to 6 months.
That'll give you enough time to explore the details behind the strategy, and convince you whether you should scrape it or not.
---
---
This is a guest post by Mihael Cacic.

About author:
From 9-5, Mihael is a content strategist, editor, and promoter at Voila Norbert. And from 5-9, Mihael is the CEO of his conversion-focused content marketing agency, 21writers.
✍️ Want to write for us? Check out our guest blogging guidelines here.