Your e-commerce checkout procedure is an essential step in increasing conversions. You've put a lot of effort into getting people to explore your website. You've spent a significant amount of time and money choosing and creating your products and writing marketing copy that speaks specifically to your top prospects. After that, only one thing's left.
Nothing else counts if those visitors do not complete their transaction by finishing the ordering process. The effectiveness of your e-commerce website is determined by how many sales you generate, not by how many visitors you can get to your site.
As reported by Baymard, the average documented cart abandonment rate is 69.8%. By the end of 2020, one in every five consumers left their cart owing to a "very long/difficult buying process."
Boosting your user checkout conversion rate is a complex yet necessary undertaking. This article will discuss why users abandon their shopping carts without purchasing and offer some suggestions for increasing your checkout conversion rate.
Why consumers leave their shopping carts?
The Baymard Institute study looked into why people leave their carts before paying. The primary reason? Extra fees that are not disclosed, such as shipping.
Consider this: when you're looking to buy something online, you are aware that you may have to pay a modest additional fee for shipping.
However, if the pricing is uncertain or ridiculously expensive, you will reconsider making the purchase. As a result, a considerable percentage of shopping carts are abandoned due to excessive delivery charges.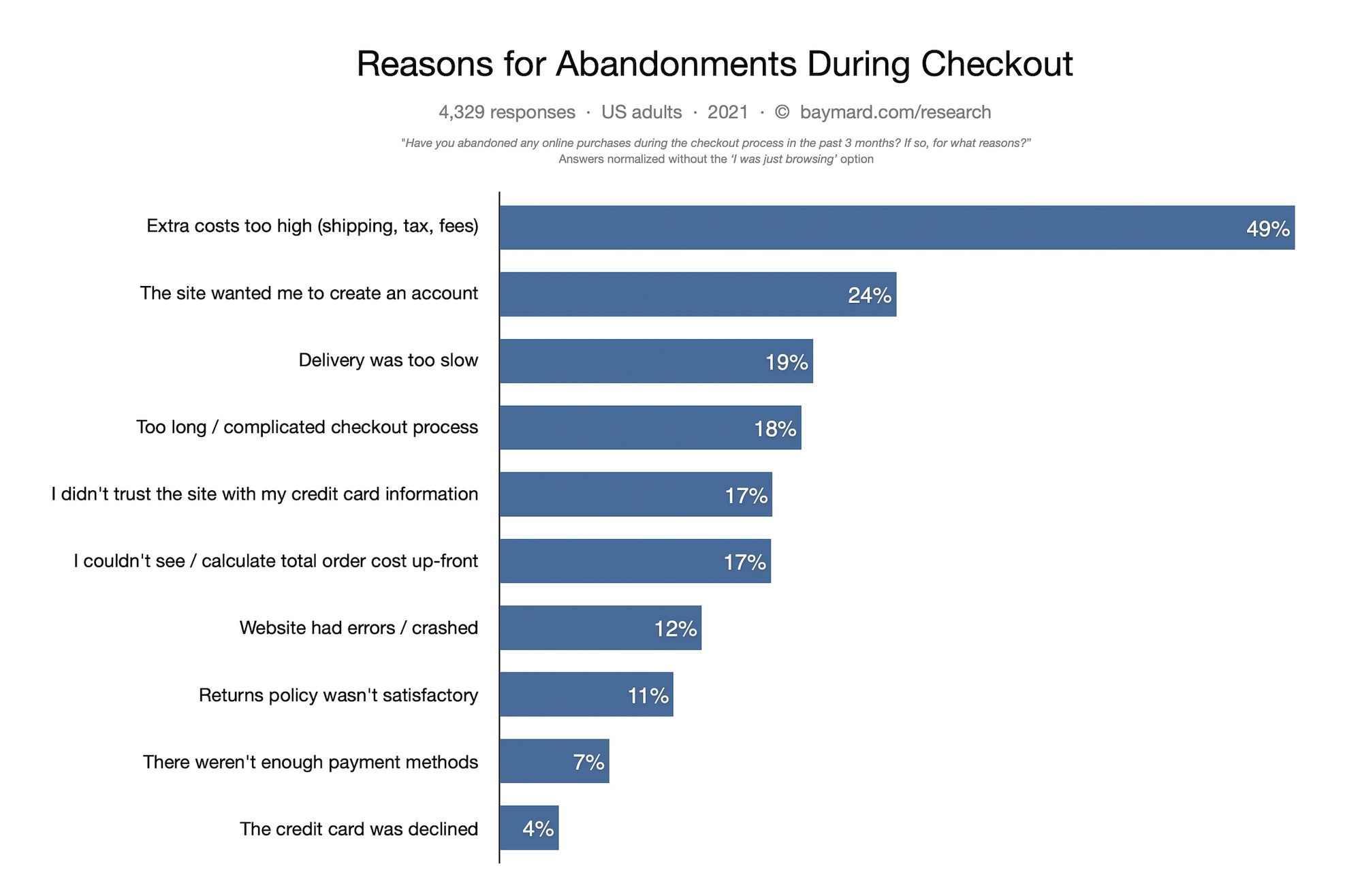 The second biggest reason for cart abandonment is requesting a visitor to create an account. We'll talk more about this later, but signing up should be an option, not a necessity in your buying process.
With that being said, it's important to bear in mind that many cart abandonments are merely a result of how people window-shop. Many people enjoy window browsing, comparing prices, bookmarking products for later, considering gift alternatives, buying coupons, etc. This kind of abandonment is reasonably common and inevitable.
Suppose we purely concentrate on resolvable checkout interface concerns. In that case, the average large e-commerce site can achieve a 35.26% improvement in conversion rate with better checkout design - which is why we're now going to look into ways to optimize the checkout process.
How to improve your shopping cart conversions
1. Work on your loading time
Loading times are vital for the general customer experience, but they are particularly crucial during the checkout process.
According to Hubspot, a 1-second lag in loading time on Amazon's site would cost the company $1.6 billion in annual sales. Furthermore, if your pages take longer than 3 seconds to load, 40% of your visitors will quit their shopping cart.
Excessive loading time gives your clients more time to ponder, and with their self-defense reflexes on full alert, even the tiniest of reasons could be enough to drive them away.
Loading times are determined by several variables, such as the reliability of your hosting and the design of your website. Try to ensure that your checkout pages load at a snap-of-a-finger speed.
2. Skip the required registration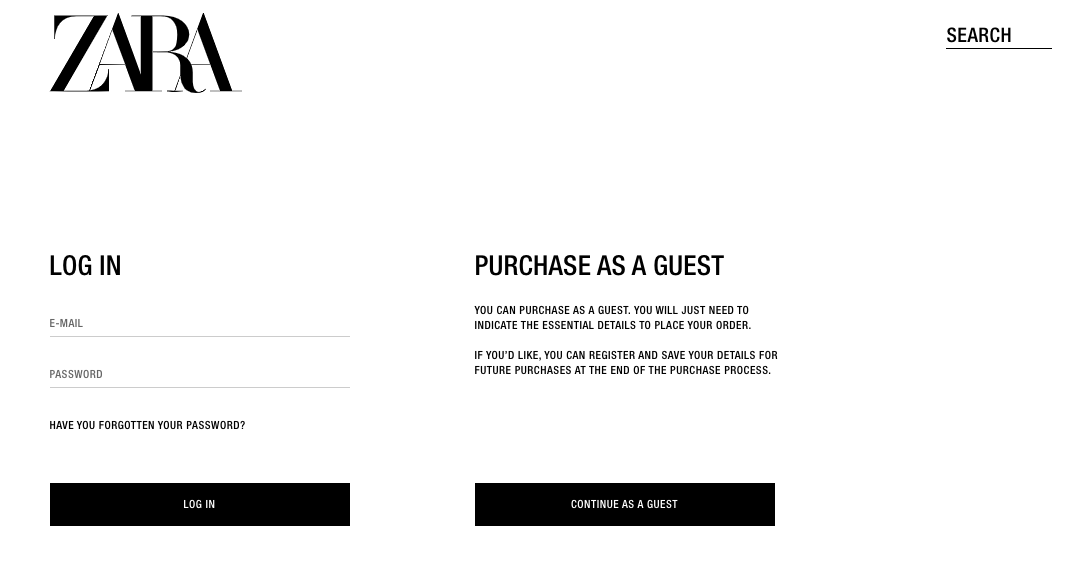 People are becoming increasingly hesitant to share their personal information with your website. They may value your items enough to purchase them, but only a few of them are willing to open an account and initiate a relationship with you.
As previously mentioned, must-registration is the second biggest reason for cart abandonment. Despite this, many e-commerce businesses continue to force users to sign up for required purchases and newsletters. That negatively influences conversion rates since customers will rather avoid emails, special offers, and promotions than deal with them.
Here are two methods for enabling a purchase without interfering with the registration process:
When a visitor makes a purchase, register a new account for them, issue a random password and email details along with the order confirmation to their mailbox.
Introduce "Guest checkout." Most sites with over $1 billion revenue don't require registration to complete the checkout process.
3. Benefit from the autofill
The time it takes to complete shipping and payment information might be a source of aggravation during the checkout process, and you can use Autofill to remove this obstacle. While saving a few seconds may seem insignificant, it can have a substantial influence on conversion rates.
For example, auto-filling the city and county on the form after visitors enter their area code on a checkout page is a minor adjustment that significantly boosts the overall conversion rate.
4. Make CTA visible and clear
Don't leave visitors wondering. With a straightforward CTA, show them precisely what to do. What is clear to you (or your designer) may be confusing to your non-technically skilled users.
For instance, when someone puts a product to their cart, make it obvious they can "Continue to Payment" or "Continue Exploring." This allows you to avoid unclear call-to-action like "Continue" and "Apply."
If a consumer tries to put an item in their cart but cannot locate the add-to-cart button, they will become irritated and abandon your site. The add-to-cart button should stick out from the other content.
You can accomplish this by picking a color that contrasts with the color scheme of your website. The form and scale of this button also impact sales, so design it to look in proportion to the other components on smartphones and tablets.
5. Simplify your cart
The more you interrupt your buyers during the purchasing process, the worse your conversion rate will be.
Cutting the number of buttons, text, and links on your checkout page will result in a simpler, more visually pleasing experience.
Allow buyers to shop instantly or continue shopping. Inform customers when they've added a product to their shopping basket. Use continuous shopping carts to indefinitely retain your users' selections, even if they cancel their ordering process in the middle. Give coupons. Do everything you can to simplify the checkout process and maximize customer satisfaction.
6. Include reviews
Before making a purchasing choice, the average customer checks out ten online reviews. 88 % of consumers believe an internet review is as trustworthy as a personal suggestion. Don't push your customers to go to third-party review sources. Include feedback from customers on your product pages.
Do you get some negative comments? Sure, everyone does. A bad critique, on the other hand, will demonstrate that genuine people are evaluating your products. It increases the trustworthiness of your brand. Positive feedback will eventually outnumber negative feedback.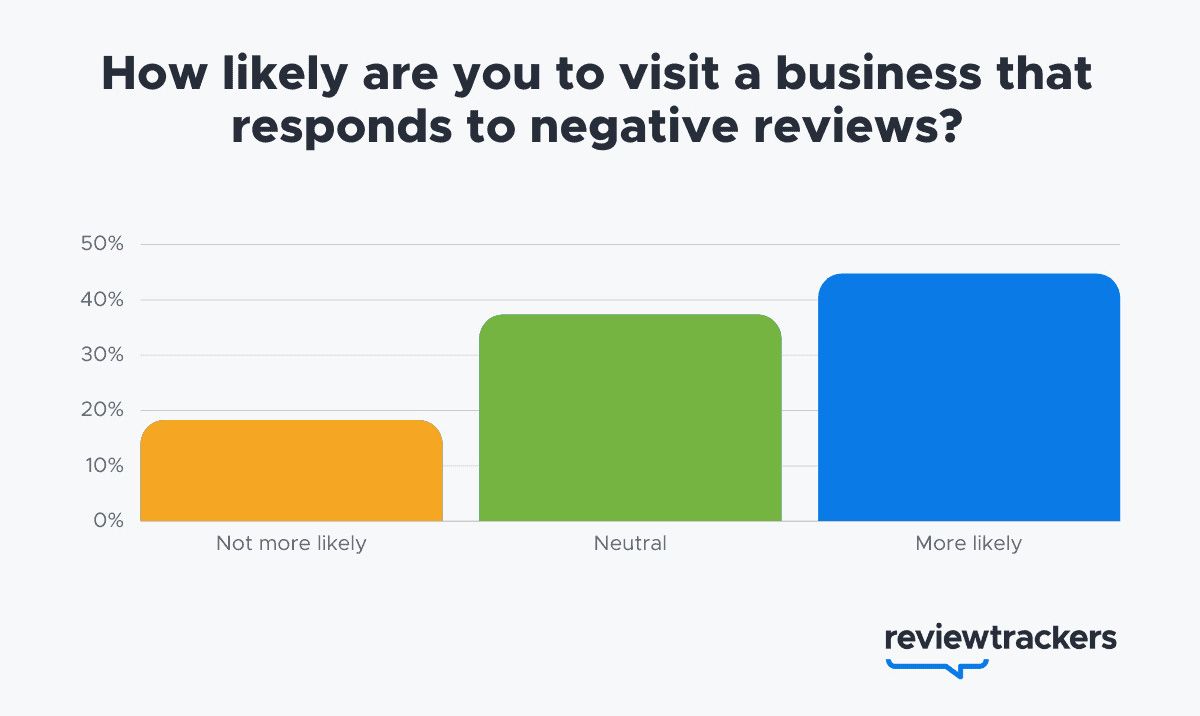 7. Create urgency
People are more inclined to add to carts and buy if they believe they will miss out on the desired goods. You can achieve this by sending out updates about how much stock is available, offering limited-time deals, or promoting one-off products.
This is sometimes referred to as the fear of missing out (FOMO). So, by presenting your goods to appear unique and offering special time-sensitive deals, you subconsciously influence the customer to act now or miss out.
8. Offer free shipping
The most common reason for cart abandonment is high shipping costs. Customers prefer to have the shipping cost included in the price or not pay for shipping. As reported by Econsultancy, free delivery was the most popular motivator for 82% of UK customers and 80% of US customers. According to the analysis, this choice provides a clear advantage over competitors.
Surprisingly, it makes no difference whether the free shipping translates into a higher total price. David Bell of the Wharton School of Business stated that a free delivery deal that saves $6.99 is more tempting to many shoppers than a $10 discount.
If necessary, raise the price of your products to cover delivery costs.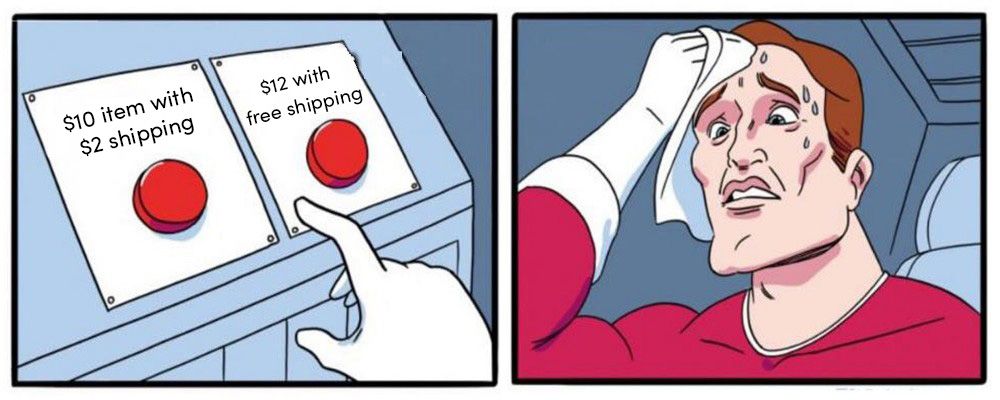 9. Offer multiple payment options
Customers might favor different forms of payment than the ones you offer on your website. Allowing various payment options will boost your conversions by lowering the amount of missed sales. Because of credit card abuse, most guests who come to your website for the first time may not want to leave credit card details.
Provide your consumers with a range of payment methods. At the very least, make sure you support significant payment systems, such as PayPal. If you want to attract customers from a specific geographic area, learn about the payment methods that the market prefers and incorporate them into your website.
10. Provide live chat assistance
Live chat is a minor feature that has been shown to increase conversions. Live chat is even more necessary if your company is young or not well-known.
Consumers are very aware of internet fraud and want to know that they are working with a reliable business. Chatting with your clients via live chat can make them feel more comfortable when purchasing on your website.
Also, If customers have to dig for your contact details for too long, they might lose enthusiasm or assume that you're not trustworthy and move on.
Chat boxes are only helpful if you can keep an eye on them and answer inquiries in real-time. If your capabilities are limited, it is preferable not to have a chatbox than to have one that is not adequately managed, as this may drastically affect a user's view of your site.
Conclusion
Being open and honest with your consumers and delivering an experience that alleviates their difficulties and exceeds their expectations is the best way to increase conversion rates.
Without barriers, shopping should be a pleasant encounter in which customers can concentrate on their purchases. Ease of transaction leads to money in your pocket as well as a delighted consumer. And, remember the golden rule - as long as customers are satisfied, conversions will follow.
---
---
This is a guest post by Andrej Fedek.

About author:
Andrej Fedek is the creator and the one-person owner of the InterCoolStudio. As an experienced marketer, he is driven by turning leads into customers. His goals always include White Hat SEO. Except for being a boss, he is a real team player with a great sense of equality.
✍️ Want to write for us? Check out our guest blogging guidelines here.