Creating a customer support knowledge base can be quite a challenge, and it takes a lot of work to manage and maintain the knowledge base articles. It also takes time to create professionally written knowledge base articles that have a consistent tone, look and feel.
Implementing a knowledge base can have a positive impact on the quality and efficiency of customer service. Since customers benefit from interacting with more knowledge support staff, who are themselves empowered to resolve issues with greater speed and consistency.
According to Forrester reports, customers are more likely to choose self-service with a knowledge base than contact customer support,  giving customers this option will significantly reduce request volumes and improve customer experience.
In this post, we'll share tips on how to create and manage knowledge base as well as provide better customer experience. Read on!

What is the knowledge base?
The customer support knowledge base, sometimes referred to as the help center, is a portal that contains everything a user needs to understand how the product works and troubleshoot any issues they encounter. The resources available in the knowledge base can be in the form of help center articles, video tutorials, and answers to frequently asked questions.
Knowledge bases are an important self-service tool that helps reduce customer overreliance on support agents for simple issues. As long as the articles are engaging enough and the guides tailored to their needs, users prefer to find the answers themselves.
With a customer support knowledge base, you can give your customers what they want and at the same time reduce your operating costs.

Why is it important to create a knowledge base?
The key goal of customer support knowledge base is to provide your customers with the exact information they need to take the next steps toward success.
And to convince you of the importance of creating a customer support knowledge base, we've prepared even more data.
According to the Statista survey,  88% of people expect a business to offer some sort of self-service support portal.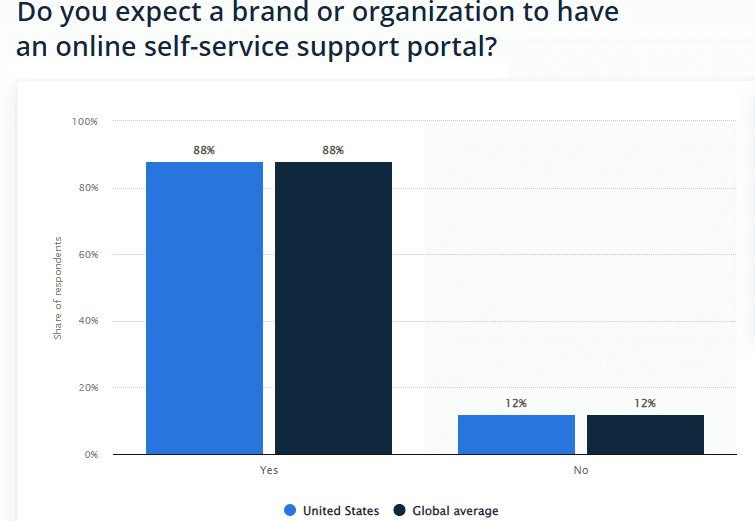 In addition to its popularity, let's look at some of the key reasons for the importance of knowledge bases.

Reduce support ticket number.  This is the most obvious reason, from our point of view. In accordance with the above statistics, most customers prefer to use customer support documentation from self-service portals rather than contacting support service. This means that if you provide your customers with a rich knowledge base, they will have no problem using it to find solutions on their own.

Everything is simple here: the more customers rely on your knowledge base to find a solution, the fewer requests your customer service team has to handle. This frees them up to deal with more complex issues requiring human intervention.

Available 24/7. A customer support knowledge base is one of the best ways to provide 24/7 support without consuming too many resources. Customer support documentations are available on your site 24/7. So whenever a customer needs help, they can simply go to the knowledge base and find an article that offers a solution.

Reduce churn. As we've already known, most customers expect the company to have a self-service support portal. This shows that customers understand the benefits of the knowledge base and the value it offers.

So if your customers need help with a problem, there's a good chance they'll check the knowledge base before contacting support. If they don't find it, the quality of their overall experience will go down, which could lead them to abandon your product.

Easy to start. If you are unable to provide your customers with an immediate answer to their concerns, they will turn to a competitor who can. Creating and managing a knowledge base can be difficult. However, it can start off simple enough - just think about the questions customers have asked you in the past and maybe questions you've been looking for yourself.

You can analyze common tickets to determine which issues are most common and you need to resolve them first. Over time, your team can build an informative knowledge base that can be a permanent resource. And with a modern tool like a HelpCenter app, creating a knowledge base won't be a problem.

Tips


We've rounded up some useful tips on how to create and manage customer support knowledge base in order to provide better customer experience. Let's discuss them.
Prepare a list of pain points.

First of all, you need to make a list of problems that customers constantly face. You may already have a good idea of where to start, but there are a few places to go if you need ideas:

1) ask your customer support representatives which topics people ask about most often;

2) check your ticketing support system yourself to identify issues with high ticket volume.
Create a document, list these topics and rank them in order of importance. Once you've collected common customer issues, refer to the support documentation to find answers.
Important here: Don't overlook the "little" issues. There is no such thing as a user pain point that is too simple. If a large number of your customers open tickets to solve a problem, no matter how simple it may seem to you, you need to create a knowledge base article dedicated to this problem.
2. Choose the best knowledge base tool.

The knowledge base tool makes it easy to create, publish, and distribute help content. It also provides the means to update content and add new tutorials as your company creates new products.
Modern apps include a no-code editor that lets you create intuitive walkthroughs that let your users self-serve.
For example, our HelpCenter Shopify app will help you create an informative, easy to navigate FAQ page that will answer your customers' questions before they appear in your inbox. In addition to its simplicity, we offer you a multilingual, SEO friendly page that integrates with your website.
Find all the benefits here.
3. Create easy-to-understand content.

Good formatting and simple language increase the likelihood that the customer will finish reading the support documentation feeling that you have answered their question. Use the following advices:
Explain even little details.  Don't assume that your customers know what you are talking about. Explain each topic as if you were talking to someone who is completely unfamiliar with your product.

Of course, this does not mean that you have to explain the same thing over and over again. Link to other help center articles when explaining a topic you've already covered.

Use multimedia. No one said that help center articles should be text-only. Include images and videos wherever you think they can help you explain something. Do you have a topic that is too complex for a picture but not complex enough for a quality video? Grab your favorite screen recording software to quickly take a screenshot.

Use simple and understandable language. The words you use in your documentation are important. Use easy-to-understand language that stays the same throughout the help center and website.

Before writing knowledge base content, create a basic style guide to set your voice and tone. If you already have a style guide for the main content of your website, feel free to adapt it.

4. Share your knowledge base.

A large knowledge base is not only accessed when needed; it is also used to support marketing content, explain sales presentations, and convert leads. While its main purpose is to answer questions and provide support to curious customers, it can be of value elsewhere.
For example, if you're writing a blog post and linking to a related feature in your software tool, consider linking to a knowledge base article that explains that feature rather than a product page. Not only does it provide a more detailed explanation of the feature, but it also demonstrates your product in action for readers who may not be your customers yet.

5. Update regularly.

Your knowledge base will always be in the process of work. As features are deployed and retired, your documentation should change with your product.

If you neglect the contents of your knowledge base, over time it will become useless - and customers will notice. In the same way that you train your support staff on product or service updates, you must actively update your knowledge base articles. The same goes for creating new articles for new features or completely new products.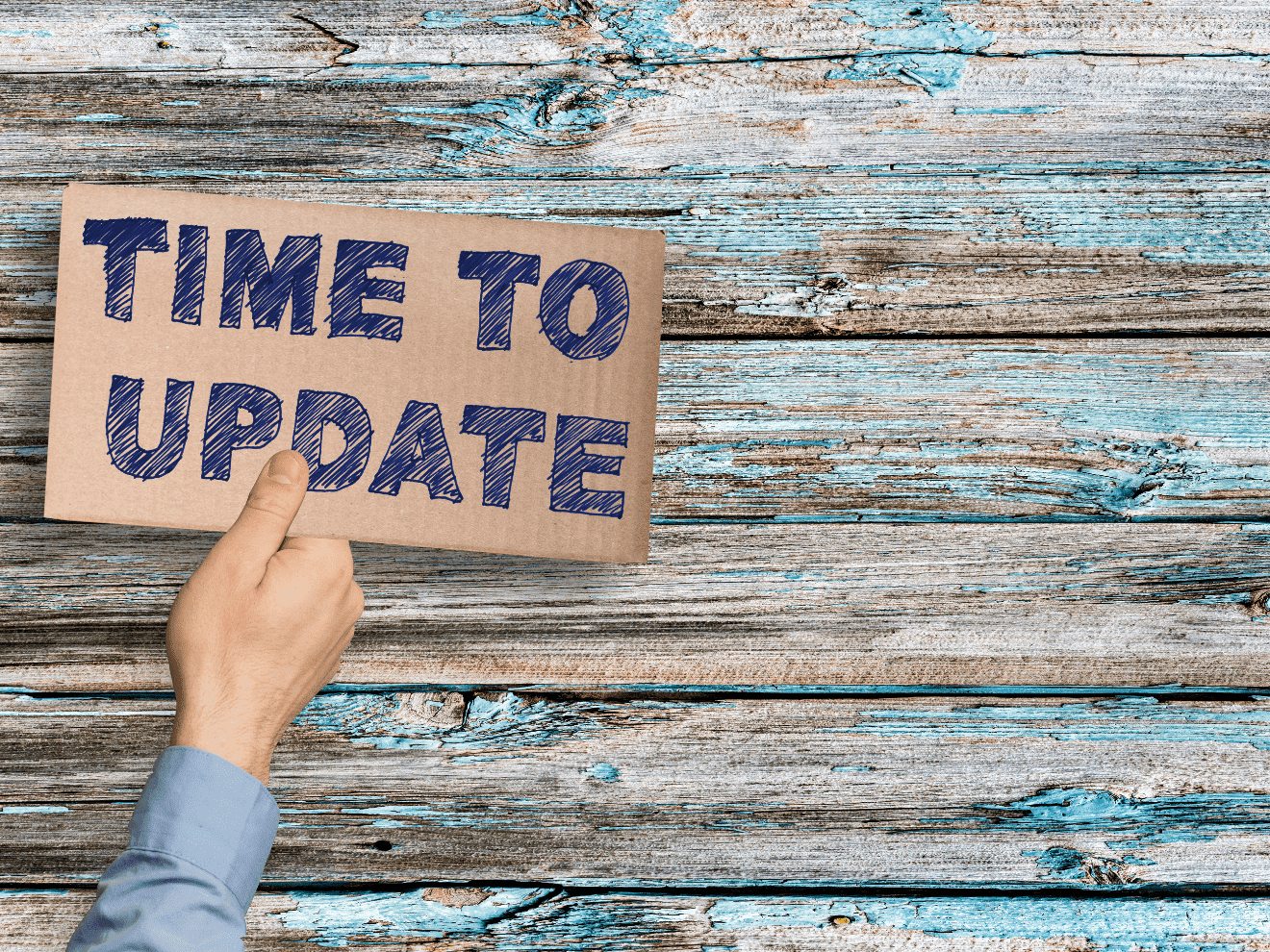 6. Collect customer feedback.

Allow customers to leave comments and feedback in your knowledge base. It shows what works and what you need to improve. You can learn a lot about how well your knowledge base is performing from what your customers say about it.
Conclusion

Because the customer continues to be central to any business, a knowledge base is an effective way for any business to focus on improving the customer experience.
The knowledge base will help you achieve higher levels of customer satisfaction and increase quality and customer loyalty while reducing costs. Try HelpCenter app and get the results shortly!