Behind every successful business, there's always a team of talented individuals who are determined to turn their motivation into a company value. Productivity is now especially important as people are switching to online shopping and the competition is increasing dramatically. Therefore, companies shouldn't overlook an important metric that shows how efficiently they can utilize human resources that leads to higher revenue, and that metric is revenue per employee.
The calculation by the HelpCenter app team shows that among the three e-commerce rivals – Amazon, Alibaba, and eBay – the latter is the most efficiently productive. With $811,024 revenue per employee, eBay's workforce efficiency exceeds its competitors nearly 3 times, leaving Amazon with $297,381 and Alibaba with $285,540 revenue per employee behind.
EBay's total number of employees in 2020 was 12,700 and the company reported $10.30 billion in revenue which is 37 times less than Amazon and falls behind Alibaba by more than $60 billion U.S. dollars. Amazon earned a staggering $386 billion last year with an army of 1,298,000 employees while Alibaba had 252,084 employees and reported almost $71.98 billion in revenue in 2020, the year of the e-commerce boom.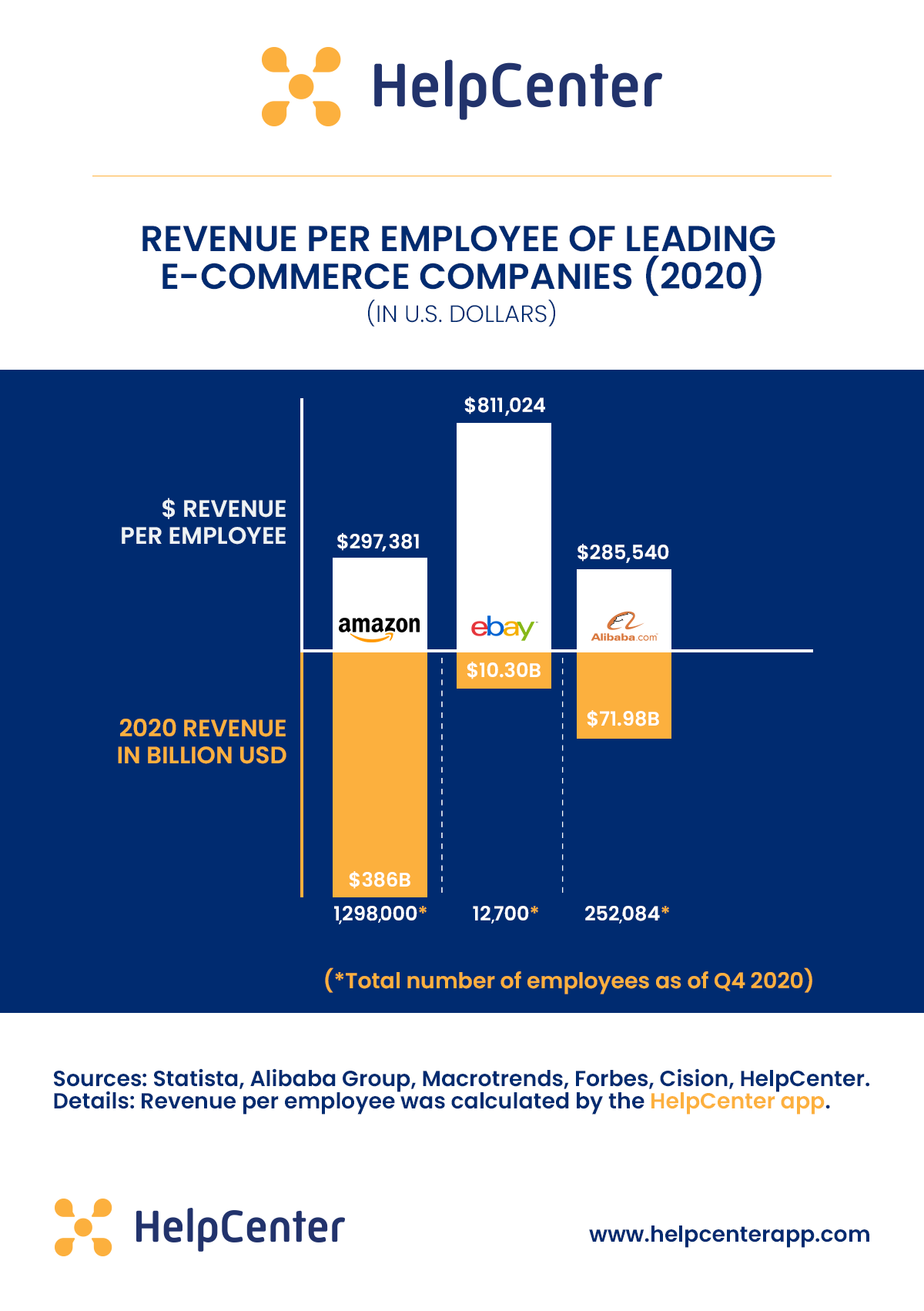 Exponentially growing teams bring new productivity challenges
The unfortunate coronavirus outbreak has fueled e-commerce growth, thus increasing the demand for online shopping and raising customer expectations to new heights. Adjusting to the ongoing health crisis has not been easy for e-commerce giants as well, and that might have affected each company's revenue per employee as a result.
Revenue per employee is closely related to employee acquisition since it impacts workforce efficiency. Put simply, new people require mentoring from existing employees which can decrease their productivity during the onboarding process, making it difficult to ensure that everyone's doing their best.
Although Amazon managed to bring the company's revenue to its all-time highs, it's also the most popular e-commerce platform that likely had to face the biggest challenges during the e-commerce surge. Therefore, the U.S. retail giant had to expand its team significantly and now employs over 1 million people for the first time which means that the company added 500 000 more jobs compared to 2019.
Similarly, to keep up with the growing customer demands, Alibaba Group welcomed 150 126 people to join their team in 2020, resulting in a nearly 60% increase from 2019. Managing thousands and even millions of employees brings various organizational challenges, hence, can impact employee engagement which is vital not only for controlling costs but can also lead to up to 18% higher growth in revenue per employee.
Unprecedented health crisis impacts employee engagement
On the contrary, it's important to note that eBay lost 600 people in 2020 (4.51% decline compared to 2019), yet the company still managed to keep its revenue per employee nearly 3 times higher than its rivals.
Amazon, eBay, and Alibaba have officially presented plenty of steps to support and protect their employees as well as help businesses that use these platforms to survive the pandemic. This includes regular temperature checks, social distancing, providing protective masks and other precautionary measures, bonuses to front-line workers, encouraging HR initiatives, implementation of accelerator programs like Up & Running, etc.
Initiatives like these can boost employee engagement as they feel valued, cared for, and a part of a socially responsible team which positively influences their performance as a result. Keeping employees engaged is challenging enough, yet succeeding at this during the global health crisis is a challenge that even giants like Amazon find difficult to overcome.
The company has been criticized for "putting employees at risk" as "terrified" workers reported unsafe working conditions at Amazon warehouses. It has caused frustration as people were experiencing an "overwhelming sense that they're responsible for their own safety at work" since some of the safety measures took weeks to implement. Amazon has also recorded at least 8 deaths as the result of the virus, whereas neither Alibaba nor eBay has experienced the same level of criticism regarding their employees' safety.
Ebay has stated its support conditions not only for employees, but also for sellers, buyers, and the community. The platform has also undergone the modernization process that improved the online shopping experience and encouraged a sales boost amid the pandemic. It helped to find a job for 11 million new buyers in 2020, due to "eBay's expanding efforts to grow its customer base, particularly among Gen Z and millennial consumers," according to CEO Jamie Iannone. Since the coronavirus outbreak, eBay Foundation has also helped various nonprofits, humanitarian and medical organizations, and emergency funds worldwide.
As the pandemic continues, challenges follow – yet it also brings new opportunities. E-commerce is going through its golden age and the new customer habits that formed during the past year are likely here to stay. To get the best out of it, businesses will have to keep an eye on ongoing trends and adjust, quickly – not only by meeting customer demands but sincerely caring about those who also are a crucial part of further growth, their employees.