You may also like:
---
---
Shopify is booming. Being a feature-rich and easy to get started platform, Shopify has landed the leading position in the minds of many people thinking about opening their online stores. The aftermath of the pandemic has raised the spirit of entrepreneurship higher than ever, and the same could be said about Shopify's revenue in 2020.
The HelpCenter app team has analyzed the selected global publicly traded companies by market capitalization, revealing that the Shopify (SHOP) market cap lies at $183.04 billion at the moment of writing.
The company's worth has now surpassed such brands as Wells Fargo (WFC) that currently has a market cap of $172.57 billion, UPS (UPS) with a market cap of $172.16 billion, and McDonald's (MCD) ($171.33 billion). The Canadian e-commerce giant now ranks higher than BHP Group (BHP), Texas Instruments (TXN), Accenture (ACN), and more, while keeping its stock price growth steady.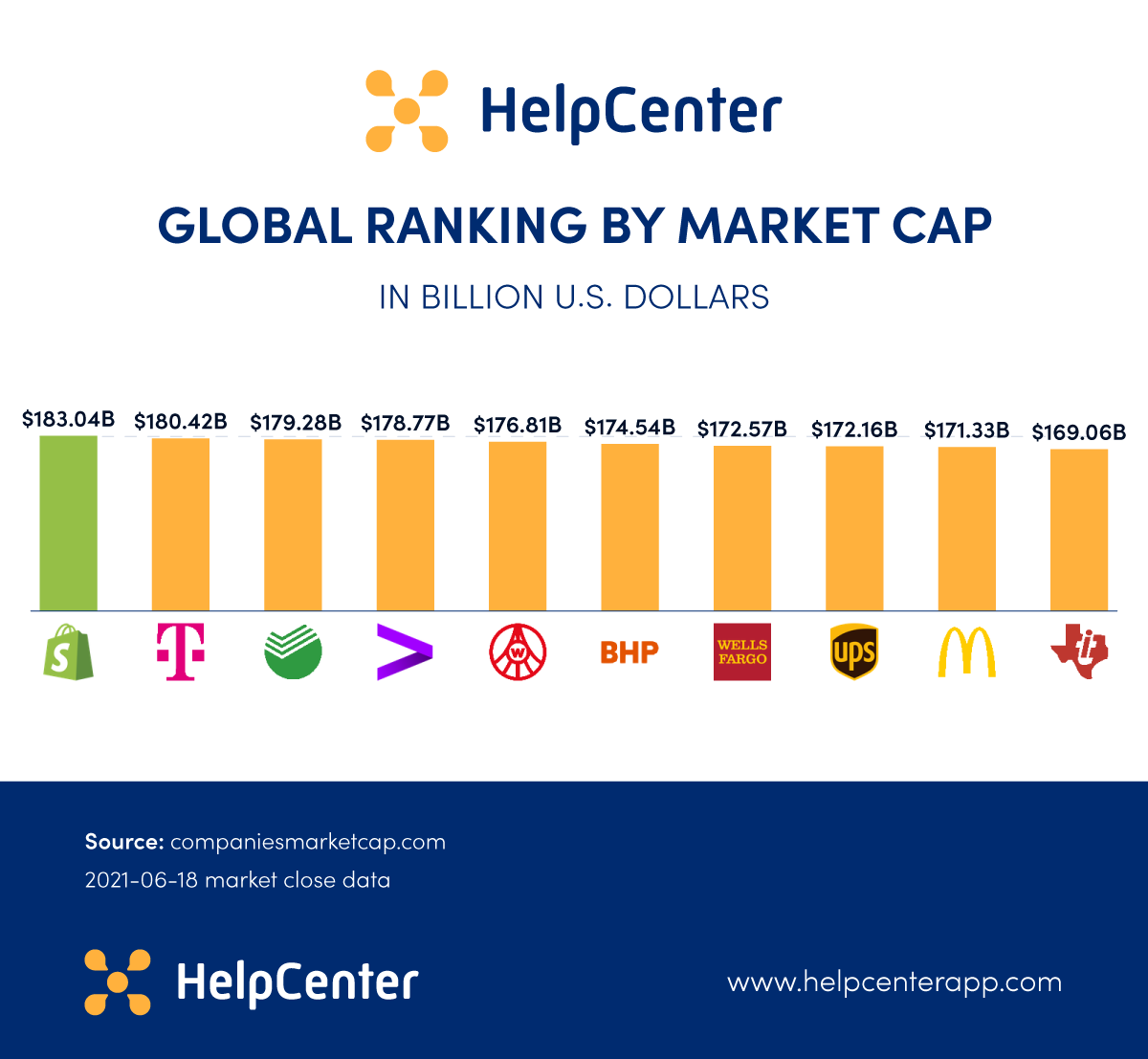 Shopify thrives as thousands of new sellers join the platform
The e-commerce industry has been steadily growing in the past years, yet it skyrocketed when the global pandemic hit. Social distancing, remote work, job losses, and a tough economic situation nudged thousands of new sellers to Shopify.
The number of new stores grew by 62% by May 2020, becoming a new source of income for many, thus boosting Shopify's gross merchandise volume (GMV) by 46% to $17.4 billion in the first quarter of the year.
Since the demand for online shopping has increased and Shopify merchants started to prosper, Shopify has been reaping the gains of this e-commerce surge. The company announced $977.7 million in revenue for Q4 2020, a 94% increase from the comparable quarter in 2019. The annual Shopify revenue then grew by 86% and reached $2.929 billion by the end of 2020.
"Our fourth-quarter results capped off an outstanding 2020, thanks to the success of our merchants <…>," said Amy Shapero, Shopify's CFO. "Shopify was prepared to ship the features that our merchants needed during the pandemic because we had invested for several years in a future that arrived early with the acceleration of online commerce."
Therefore, nearly 37% of Shopify store owners have experienced a boost in sales and increased their revenue by at least 40% since the outbreak of COVID-19, the HelpCenter survey has found.
22.4% of sellers who participated in the survey have managed to grow their revenue by up to 60%. Furthermore, more than 5% of those who reported a positive change amid the pandemic were able to increase their revenue by no less than 80% while 12% of respondents said that their revenue grew by 100% or even more.
Shopify trend is here to stay
In the last trading week, Shopify has jumped in the global ranking of companies by their market capitalization by more than 10 positions, outperforming already mentioned Wells Fargo (down by -2.43% at the moment of writing) and McDonald's (-1.82%). The company has also left such giants as Philip Morris (market cap of $155.07B), Volkswagen ($153.17B), and Shell ($152.17B) far behind.
Since consumer behavior has undergone a significant shift through the pandemic, e-commerce sales are expected to keep the same pace. Shopping apps are already being used by 78% of users globally, ranking second in popularity after music apps. As a result, Shopify will likely continue to attract various businesses aiming to go online, as it offers a highly scalable, easy to get started solution at affordable rates.
Moreover, Shopify is continuously working on improving the functionality of its e-commerce stores. The company has taken the lead in supporting smaller businesses and helping their merchants to adapt to this new reality. The e-commerce giant has already implemented such changes as making gift cards available to all sellers, facilitated curbside pickups, introduced a consumer-facing shopping assistant app, and more.
Shopify has also invested $350 million US dollars into a payment processing giant Stripe that helps to accept payments and manage online businesses.
These ongoing improvements are focused on helping merchants to "compete in any retail environment and engage directly with their customers wherever they are," while not only making running an online store easier but also improving the shopping experience for the customers.