YouTube launched its first paid streaming services YouTube Red in 2014 to stop revenue loss from ad-blocking. However, after rebranding as YouTube Premium, it took more than six years for the platform to start generating solid and sustainable revenues from its Premium subscribers.
According to data compiled by the HelpCenter app, YouTube Premium subscriptions are estimated to top 23.6 million unique users by the end of 2021 in the US, with the revenues reaching $282.96 million by the end of 2021 in the US alone. With YouTube Premium subscription at $11.99 a month, this represents a growth of an impressive +18% Year-Over-Year (YoY).
Moreover, Premium subscriptions are projected to climb over 25 million unique users by the end of next year, exceeding $300 million in revenues. By the end of 2024, totalling $334.52 million with nearly 28 million sign-ups. The projected revenues are expected to keep a steady growth after 2023. The data on unique subscriptions is provided by eMarketer.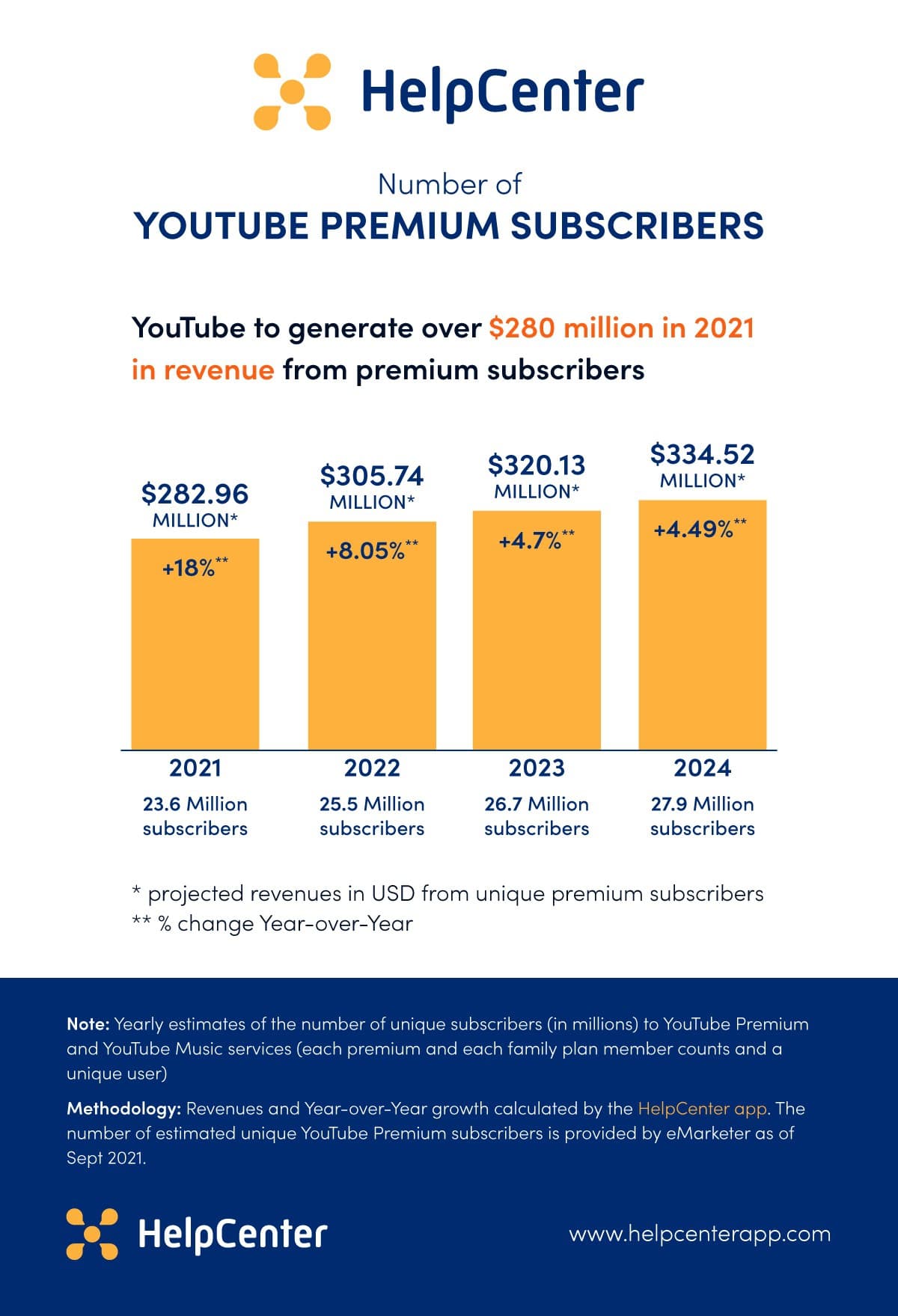 Main drivers for the growing popularity of video streaming
In addition to promising growth in the US, YouTube Premium streaming services reached 50 million subscribers globally since the beginning of September, beating an important milestone.
For a $11.99 subscription fee a month, YouTube Premium offers an all-encompassing video and music service, allowing access to its ad-free videos, audio videos (music will keep playing, despite the app being minimized), YouTube TV, and the possibility to download videos. What is more, it includes YouTube Music, otherwise a separate subscription fee.
YouTube Premium's recent success can be attributed to multiple reasons, including COVID-19 influence and several digital advancements. It is likely that this growth has been driven by both Covid-related, as well as non-Covid-related factors.
In 2020, the global video streaming market was valued at around $50 billion and is expected to expand at a 21% growth between 2021 and 2028, reaching nearly $224 billion in value. Such growth was highly driven by an increase in smartphone and internet usage.
Several aspects relating to new technological solutions, such as live-streaming, music streaming, the adoption of cloud-based solutions, as well as high-quality streaming could all be contributing factors to the steep revenue and user growth from YouTube Premium subscriptions.
In terms of market shares, 39% of the video streaming market is found to be driven by the US and Canada. What is more, the subscription model accounted for 43% revenue share of the total video streaming services in 2020, both of these aspects would explain the US-driven revenue growth of 18% Year-over-Year (YoY).
Moreover, YouTube Premium membership also allows access to its Music streaming services, another possible contributing factor for revenue growth from premium sign-ups. The music streaming market in isolation is expected to reach a good 9.8% growth between 2021 and 2027.
Extreme growth has been accelerated by the COVID-19 pandemic
The COVID-19 pandemic has permanently changed consumer behavior. It has had a huge impact on how people interact with each other and how they use their spare time, whilst working from home more.
Even though video streaming services were popular before the pandemic, the extreme acceleration in growth has been caused by the COVID-19 pandemic. As many countries declared nationwide lockdowns and enforced strict travel bans to stop the spread of the virus, people stayed home. This increased the use of digital services like social media, as well as online video streaming. Consumer engagement on social media video sharing platforms like YouTube grew significantly.
Whether this growth is mostly driven by the all-encompassing features (ad-free videos, original movies, YouTube TV, as well as music streaming for $11.99), changes in the consumer behavior due to the COVID-19 pandemic or technological advancements, revenues from YouTube Premium subscriptions in the US are expected to keep growing at a steady rate.