Shopping online is great, but it also has some minor inconveniences like most things in life. One of them is not being able to physically examine the item you're about to buy and having to rely on the information provided by the seller.
Therefore, cluttered product descriptions or the lack of product details can significantly impact shoppers' purchase decisions. This can either leave your potential customers confused or just fail to convince them to proceed to the checkout.
To improve their product pages, Shopify store owners can benefit from product tab apps that help to provide comprehensive product descriptions without harming the user experience.
Below, you'll find a list of top-rated product tab apps for Shopify, followed by the key functionalities and the benefits that they bring.
How to add tabs to your Shopify product page?
There are three ways how you can use product description tabs in your product pages:
Edit the code. If you're not familiar at least with the very basics of coding, this method might be the most difficult one. Otherwise, you can just modify the code of your current theme and have complete control of how product tabs look on your store.
Shopify themes with built-in tabs. Some Shopify themes come with product tab functionality that you can use to organize your product descriptions. Although it can be a good solution, you should keep in mind that the tabs creation is usually limited (you can't edit their layout).
Third-party apps. Installing a Shopify app that was developed for such a purpose is the easiest way to equip your store with product tabs. You don't have to edit the code or choose a specific theme with this functionality, and you get more freedom to customize them for your liking.
TOP product tab apps for Shopify
1. HelpCenter
Rating: ⭐4.8/5 (1250+ reviews)
Pricing: $3.99/month on annual subscription.
HelpCenter offers several customer service tools for Shopify store owners who want to provide their customers with a top-notch shopping experience. Using HelpCenter, you can create an informative FAQ page, equip your support team with a help desk ticketing system, benefit from a live chat and contact form, and, of course, add product tabs to your product pages.
Key features:
Automatically create specific tabs for product-specific content directly from the product description
Create shared tabs that suit multiple products – assign them by product type, collection, or vendor
Make tabs more appealing by adding static content below, for example, images
Choose from different tabs themes
Customize tabs to meet your needs better – change colors to match your store design and modify other design elements
---
---
2. Advanced Product Descriptions
Rating: ⭐5/5 (55+ reviews)
Pricing: Free plan available. Premium plan costs $9.99/month.
Advanced Product Descriptions is focused on tabs only and offers you a convenient and easy way to improve how you present your products.
The app comes with wide customization options, allows you to display information in several different ways, and can even help to improve your SEO.
Key features:
Unlimited accordion tabs – you can create as many as you need to describe your product best
Several other tabs display options (switchers, swipers, and more)
Match your store design by changing colors, fonts and font sizes, spacing, and style
Indexable by search engines
Easy management directly from Shopify
3. Easy Tabs
Rating: ⭐4.9/5 (800+ reviews)
Pricing: $5/month.
Easy Tabs is another decent option to organize your product descriptions into easy-to-navigate sections.
Using this app, you won't need to reorganize everything you already have on your product pages manually. Easy Tabs allows you to simply turn existing descriptions into tabs and customize them to match your store's look and feel.
Key features:
Easy to organize existing product descriptions into tabs in a few clicks
Static tabs for all products or specific collections only
You can also add tabs for third-party reviews apps
Wide customization options (layout, colors scheme, background, etc.)
You can choose to automatically turn tabs to accordion layout for smaller screens (mobile-friendly)
4. Product Description Tabs & FAQ
Rating: ⭐4.9/5 (90+ reviews)
Pricing: $9.90/month. Exceptions may apply.
Product Description Tabs & FAQ is a simple and easy-to-use product description app used by Shopify stores of all sizes.
It gives store owners the freedom to choose how to display their product details and add relevant information organized in tabs to any store page, thus improving user experience and boosting the chances of a sale.
Key features:
Easy to create accordions and tabs from long product descriptions
Automatically switch from tabs to accordions on mobile
You can show different product descriptions based on the selected variant (e.g., size)
Collapsible accordions can be added to any page on your store
Add reviews from third-party apps
Many options to customize tabs to match your theme
5. Custom Product Accordion Tabs
Rating: ⭐4.9/5 (45+ reviews)
Pricing: $4.99/month.
Custom Product Accordion Tabs is a Shopify product tabs app that allows you to create unlimited tabs or accordions for your product pages as well as any other page on your store. For instance, if you feel that your Return policy could be better organized, you can use this app to help you do it.
You'll be able to see all your content in a centralized dashboard, use drag & drop features to arrange everything easily, and choose how you want to display this information from several different premade styles.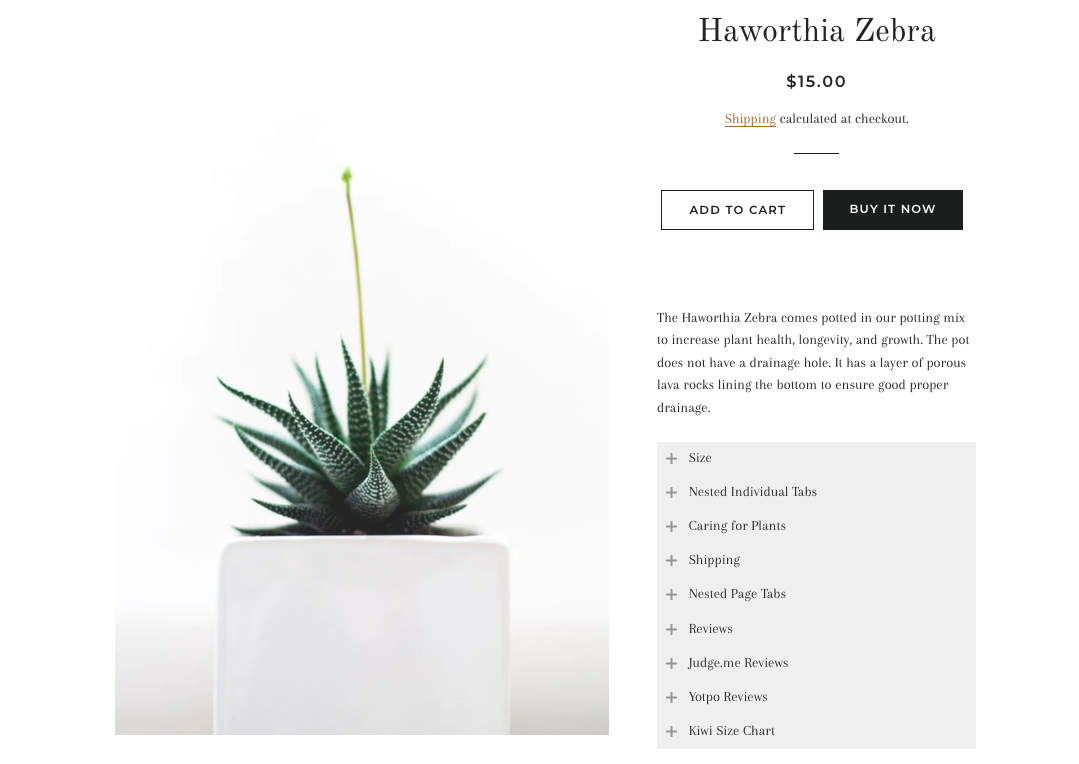 Key features:
Create product tabs from your Shopify admin
Flexible and responsive design allows you to switch between tabs and accordions
Apply the same tabs for multiple products
Drag & drop feature
You can create not only product tabs but also page tabs, e.g., FAQ
5 different styles, customization options
6. SmartTabs
Rating: ⭐4.9/5 (1260+ reviews)
Pricing: Free plan available (limited). $2.99/month on an annual subscription.
Last but not least, SmartTabs. As well as other tab apps in this list, SmartTabs allows you to organize the key product information into sections and give your store a sleek and professional look.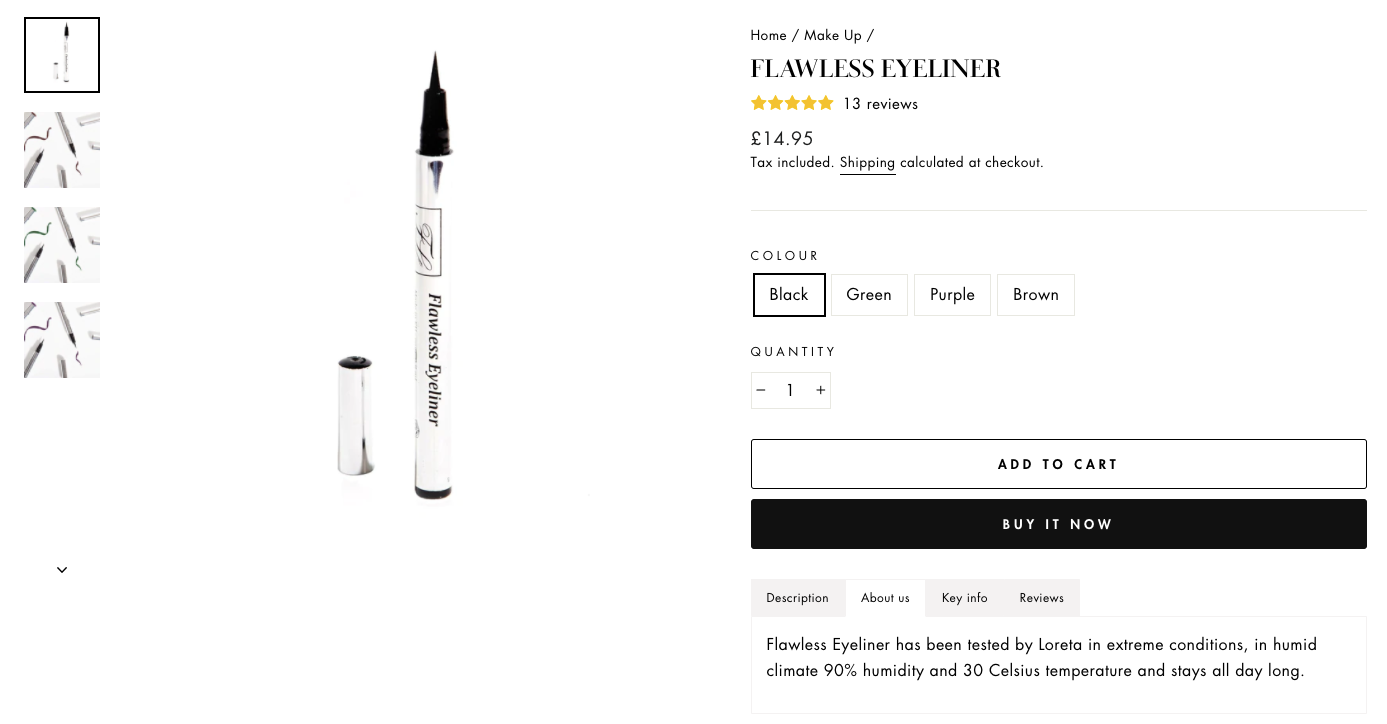 Key features:
Easy tabs creation using headings in existing product descriptions
Tab collections for single products or product groups
Full customization options – change text color, background, borders, etc.
Third-party review apps integration
Mobile-responsive design
Free version
Improve your store UX with product tabs for Shopify
The shopping experience is among the key deciding factors for today's demanding consumers – they don't want to be left confused; they want it to go as smoothly as possible. This should be your goal as a business, too, as it highly impacts customer loyalty and willingness to return and shop with you again.
The easier you'll make it for your visitors and customers to learn about your products or services, the higher will be your chances of conversion.
Therefore, choose a product tabs app for Shopify and start organizing your product details into user-friendly descriptions now – and thank us later!