You might never understand what a customer support agent goes through if you've never had a chance to experience it for yourself. However, if customer service is something you deal with daily, there's no need to tell you how time and energy-consuming it can actually be. But that's not the only point.
Good customer service is one of the key factors of excellent customer experience and might cause some serious damage if gone wrong, especially in e-commerce. It also plays an important role in customer satisfaction and retention. Customer service influences how shoppers perceive your business, which can either turn out great or result in a loss.
Customer service apps for Shopify help online store owners handle all communications efficiently and are an inseparable part of any customer support team. If it's something you've been considering for a while or just looking for a switch from your old provider, we've picked the 4 best customer service platforms based on ratings, reviews, and our own expertise to help you make a more informed decision.
1.  HelpCenter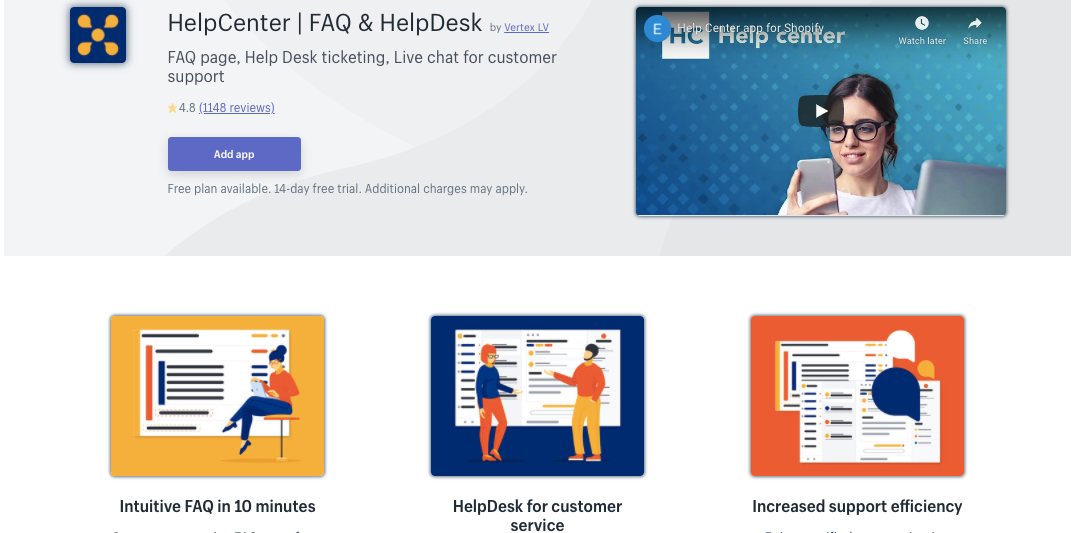 We know what you're thinking – HelpCenter app in the TOP list of customer service apps for Shopify on its own blog… Not a surprise. However, HelpCenter has been one of the leading Shopify apps in this category for a while already and we're not going to miss an opportunity to highlight our clients' trust!
HelpCenter is an intuitive, user-friendly customer service app aimed at lightening the burden for customer support agents while enabling customers to receive fast and attentive support. It helps customer support teams to shift the attention from mechanically answering tons of emails all day to actually creating some value to the customer. What's truly great about HelpCenter is that it combines three essential customer service solutions in one app:
FAQ builder
HelpDesk ticketing system
Live chat.
Reduced number of recurring questions thanks to FAQ builder
Although every customer is unique, all of them usually have similar questions and do not mind taking over your inbox to get the answer. Some of those questions fall under the same category and might even be asked a few times a day. Such questions are called "frequently asked questions", or FAQ, and can be dealt with effectively using HelpCenter's FAQ builder.
Its main goal is to help Shopify store owners build a comprehensive, easy to navigate, and well-structured FAQ page in more or less 10 minutes. By having an FAQ section in their stores, businesses allow customers to solve their questions on their own before contacting the customer support team, thus saving some valuable time.
HelpDesk ticketing system for seamless customer support
Besides FAQ builder, HelpCenter also comes with a help desk ticketing system that is a crucial tool for efficient customer support.
With HelpCenter's HelpDesk ticketing, businesses get to manage all requests from emails, live chat, and Facebook messenger in a single location, meaning that switching back and forth between different channels becomes a thing of the past. What's great about this is that you can add as many accounts and inboxes as you want, and there's no limit to how many agents you can assign.
Moreover, HelpDesk ticketing system provides customer purchase and inquiry history that allows you to get a comprehensive image of every interaction and the ability to use custom tools to boost the customer experience.
Instant connection via live chat
HelpCenter's live chat can help to keep businesses closer to their customers, no matter when they decide to get in touch. You can either use it to communicate with visitors in real-time or set an auto-response for out of office hours, leaving them a contact form that they can fill to be contacted later.
The obvious advantage of HelpCenter is that it comes with all the necessary features for a smooth communication (basically, the mighty trio for efficient customer support), is created to be navigated and used effortlessly, and is the cheapest choice with unlimited agents of all the customer service apps for Shopify.
HelpCenter pricing
HelpCenter's free version comes with the basic FAQ features, such as unlimited questions and answers, search bar, or customizable templates, and a HelpDesk ticketing system (50 tickets/month). Premium version offers advanced functionalities of FAQ builder and more options using HelpDesk ticketing and live chat. It is priced at $4/month or $4/month with an annual subscription ($48/year in total). There's also a Professional plan that comes with all the best FAQ and HelpDesk ticketing + live chat have to offer, and costs for $24/month (or $288/year).
---
---
2.  Gorgias
Gorgias is one of the most popular customer service platforms aimed at making the whole process more efficient for customer support teams while also boosting customer satisfaction. By automating most of the interactions and some specific tasks, it still allows businesses to "sound human" when communicating with their customers but without the need to put so much time and effort into it - and that's definitely one of the biggest strengths of this Shopify app.
Easy to start with, no matter your experience
Gorgias is pretty easy to install in a few minutes and doesn't really look too complicated when you open it for the first time. Although it has many different options to choose from, it doesn't feel overwhelming for a first starter since everything appears to be well-organized and clear.
As a Shopify store owner, one of the first things you might probably want to do is to connect your store with the platform. This can be done with Gorgias integrations, which is something that should definitely be mentioned – the app allows over 20 of them, also including email, Facebook Messenger, Instagram, Slack, Amazon, etc.
It means that with Facebook Messenger integration, for instance, every time someone sends you a message Gorgias will automatically create a ticket and allow customer support agents (and there can be as many as you want) access it right there in the app, eliminating the need for switching channels.
Automation for the win
Another Gorgias feature that is worth mentioning is Rules. It provides automated or semi-automated options for specific actions, such as tagging, closing notifications, notifying agents, or responding to customers.
Those who have been working with customers longer definitely know how often you have to make some changes to the order after it's already been placed, or how time-consuming it is to deal with recurring requests. These are just a few of those situations you have to always be aware of, and Gorgias can make it a bit easier by notifying agents of assigned tickets, automatically sending customers to order status pages, sending auto-responses, or tagging urgent edits.
Features that can enrich the workflow
Talking about tags, there are many already premade ones that might help to navigate through inquiries and keep track of the topics customers are contacting you about (e.g. billing and payments issues, orders/shipping status, refunds, returns, etc.). You can also add a new tag that is unique for your business – and that's actually a really nice feature that would be appreciated not only by those who simply enjoy organization.
So basically, when we talk about Gorgias, we mean data-rich macros, templates, and everything else you might need for a prompt yet personalized response.
Gorgias pricing
Gorgias pricing is based on the volume of your customer service interactions instead of cost per user. Basic Gorgias's plan costs $60/month or $600/year with an annual subscription and lets you assign unlimited customer support agents, comes with live chat, and 350 tickets per month. Pro plan is $300/month (or $3000/year) while Advanced plan with all the best the platform has to offer is priced at $750/month (or $7500/year with an annual subscription). All plans might be supplemented with additional tickets that cost up to $25 extra.
3.  Richpanel Customer Service CRM
Richpanel's Customer Service CRM can collect the data from multiple channels and resources (e.g. sales, marketing, and CRM's) to keep it all accessible from one place, help to manage tons of information, and allow fast communication.
Richpanel also focuses on the same approach of providing an agent with all the necessary information to improve every possible interaction with a customer, for both sides.
Besides that, Richpanel is simple to set up and get started in a few clicks, and it takes no time to get to work after integrating the app with your Shopify store. You get the full, comprehensive image of every customer interaction, including website visits, total orders, average order value, and other important data just by clicking on a customer's name, which helps you to provide them with answers while having the full context.
Intelligent self-service portal for better customer experience
What distinguishes it from its competitors though is, as they call it, an "intelligent self-service portal" that is said to be able to resolve up to 50% of issues without the help of agents.
It's kind of a live chat but with the possibility to see orders, request edits, track packages, and browse frequently asked questions. With the self-service portal, you can create scenarios that allow customers to find answers to their own questions without the need for reaching out to the customer support team, reducing the number of inquiries. Not to mention that it's all personalized, too.
Winning duo: help desk and live chat
Then there's the help desk that unifies all the channels, such as email, live chat, Facebook, Instagram, and WhatsApp, and allows agents to access all messages in one place. Common responses can also be automated so it gives an opportunity to focus on other important issues.
Last but not least and totally worth mentioning is Richpanel's intelligent live chat that basically plays the role of a separate agent. It can act as a guide to customers' favorite products, help to recover abandoned carts, allow using task bots, and, once again, is able to "keep" a personalized conversation and even distinguish customers from visitors.
Richpanel pricing
Richpanel's Customer Service CRM has a free version that offers basic functionalities, yet there are three more options to choose from, depending on your needs. You can either pick Starter ($100/month), Regular ($300/month), and Pro ($750/month) that supplies you with 6000 conversations per month, unlimited agents, an option to connect multiple stores and channels.
4.  Re:amaze
Re:amaze is another help desk ticketing system and communication tool that comes with the most important features for an app of such kind, and actually leaves a pretty good impression.
It's known for its robust integration possibilities, advanced live chat software, built-in FAQ generator, and serving the primary goal of any help desk ticketing – unified experience, no matter the channel.
Simple features – strong impact
Although packed with various features, some of them are really worth a separate mention. Re:amaze can prevent multiple agents from working on the same tickets, supports conversations for different departments and groups (e.g. shipping, sales, marketing, etc.), and works really well with multiple stores.
Moreover, its chat widget provides information about the average response time and comes with social media icons. It's something that might seem small and is not provided within the live chats from other Shopify support apps yet might result in higher conversion rates, for instance, so definitely something to keep in mind.
Live chat for 24/7 support
Live chat is actually something that sets Re:amaze apart from other customer service platforms. One of the functionalities it offers is automated messaging that helps to engage customers using rules and predefined conditions that can be triggered by different criteria (e.g. time on the store, Shopify parameters, items in cart, etc.).
Chatbots can also answer order-related questions and address the most common issues.
Integrated order tracking
Since "Where is my order?" is probably one of the most popular questions in e-commerce in general, Re:amaze didn't forget to ease the burden of it, too.
The app actually comes with an order status box just for this specific purpose and provides a solution that can reduce this specific type of inquiry. Every time a customer wonders about order status, s/he can simply enter an email address and order number to get this information without even contacting a support agent.
Less questions that have already been answered
More like previously mentioned HelpCenter, Re:amaze is one of those apps that also covers the problem of common, recurring questions and provides customers with a self-service experience which is actually "in high demand."
It offers an easy-to-use FAQ building platform which gives a user full control not only on the content of the FAQ page but also on how it's going to be displayed. Besides, its search bar can find the necessary results using root words, not to mention basic keywords.
Re:amaze pricing
Re:amaze offers a free 14-day trial after which you can continue using this app by picking one of the 4 different plans: Basic ($20/month), Re:amaze Pro ($40/month), Re:amaze Plus ($60/month), and Enterprise Custom ($500/month). With the higher price also comes more possibilities, as all of them get something extra added to the previous package.
Conclusion
Choosing the right tool for your business requires a lot of comprehensive research so being confused over all the possibilities sounds totally normal. Hopefully, this list of the highest-rated customer support apps for Shopify will help to make the right decision and nudge you in the right direction towards choosing the option that meets your business and customers' needs, resulting in seamless customer experience and overall business growth.